A list of heartfelt long-distance relationship quotes to remind you that true love is worth the wait.
"It's not going to work between you two." This is probably what those in a long-distance relationship hear most often. It is true that long-distance relationship is challenging. When you miss someone so dearly, their absence can drive you crazy.
After all, long relationships are only for strong souls. When you are miles apart and your communications are limited to texts, calls and FaceTime, every word means so much. We learn to save the best for the one we love. We get stronger and grow together just like we are never apart.
And the best part of being in an LDR? Knowing that your Significant Other is thinking about you the same way you do. You are not alone. You are on this journey together, the joy, the tears and the loneliness.
So here are some of the best long-distance relationship quotes for boyfriend or girlfriend. Send these sweet LDR messages to remind them (or yourself) that it all worths it.
Beautiful Long Distance Relationship Quotes
Relatable LDR love quotes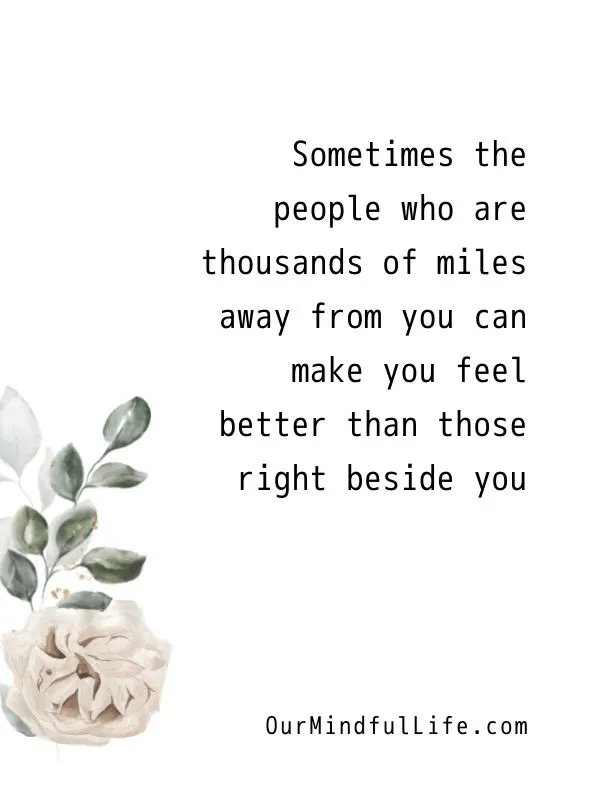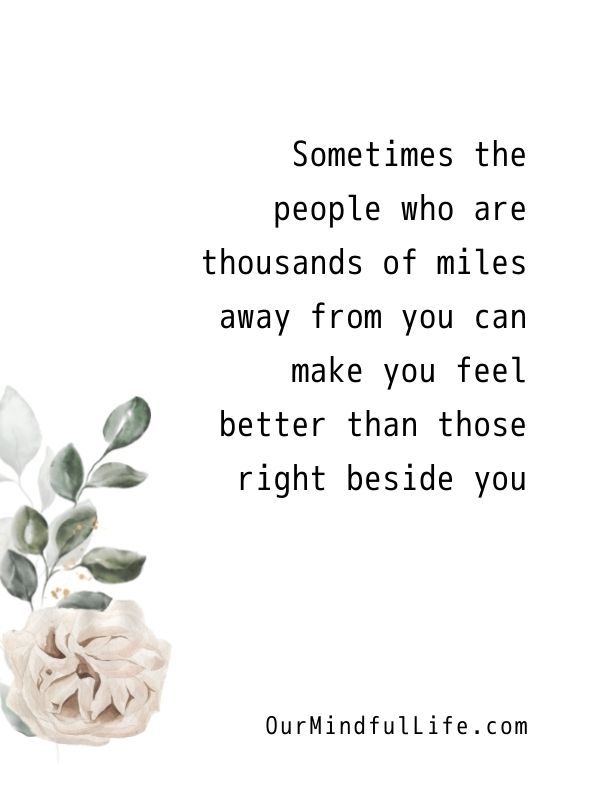 Sometimes the people who are thousands of miles away from you can make you feel better than those right beside you.
I missed him the more he was absent from my life, and the more I missed him, the more I loved him.
– Donna Lynn Hope
"I'll never leave you," he said thousands and thousands of miles away.
– Juansen Dizon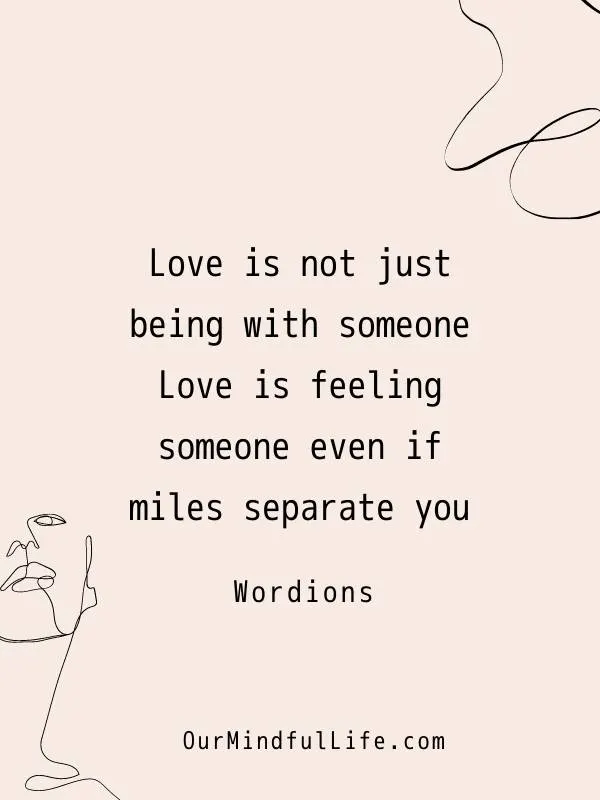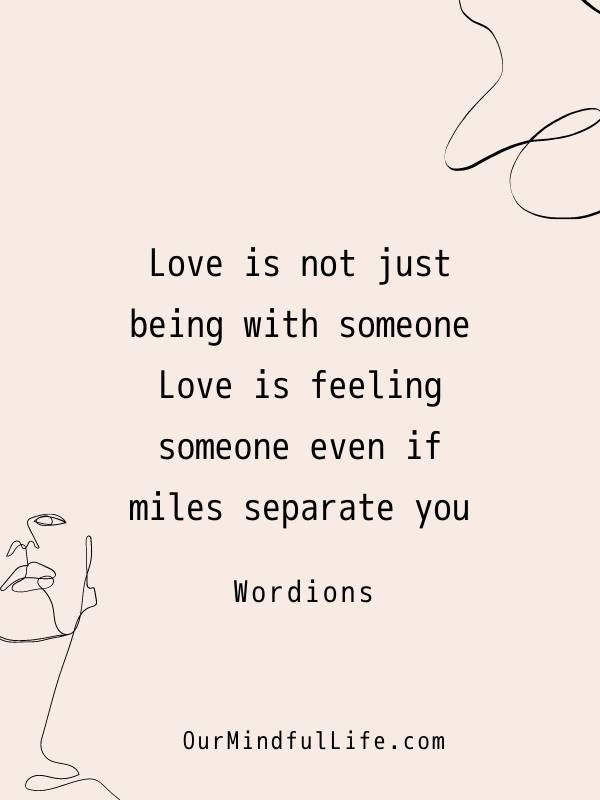 Love is not just being with someone. Love is feeling someone even if miles separate you.
– Wordions
I have late-night conversations with the moon; he tells me about the sun, and I tell him about you.
– S.L. Gray
Distance sometimes lets you know who is worth keeping and who is worth letting go.
– Lana Del Rey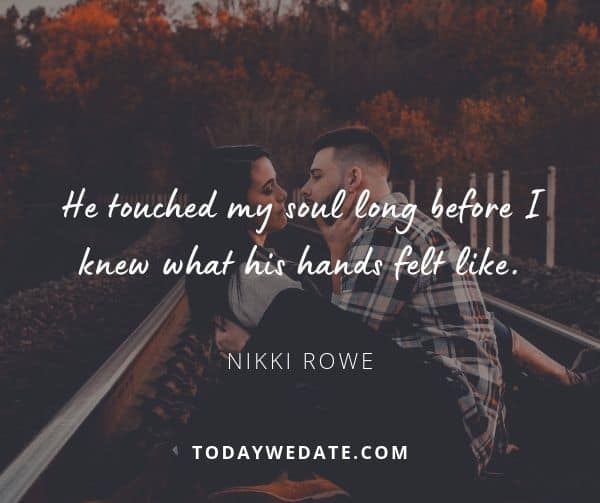 Via Today We Date
He touched my soul long before I knew what his hands felt like.
– Nikki Rowe
True love doesn't ask you to sacrifice yourself. You can love someone from a distance and still live in the moment.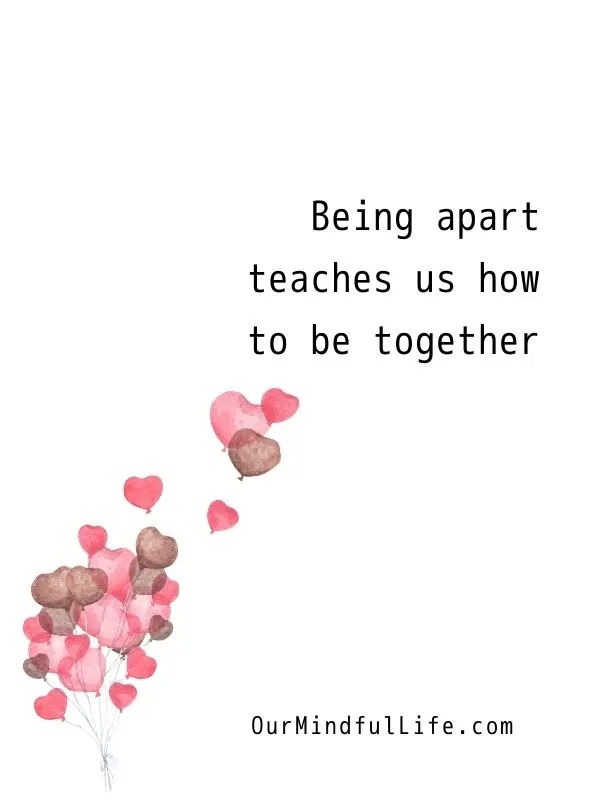 Being apart teaches us how to be together.
Absence sharpens love, presence strengthens it.
– Thomas Fuller
Distance means so little when someone means so much.
Absence is to love as wind is to fire; it extinguishes the small and kindles the great.
The longer you wait, the better it gets.
Distance never separates two hearts that really care.
– Cheryl Ott
In true love, the smallest distance is too great, and the greatest distance can be bridged.
– Hans Nouwens
The pain of parting is nothing to the joy of meeting again.
– Charles Dickens
One day the plane ticket will be one-way.
Love is missing someone when you're apart, but feeling warm inside at the same time.
Distance makes the heart grow fonder.
– Thomas Haynes Bayly
True love can endure any circumstance and reach across any distance.
– Steve Maraboli
You know you've found true love when you catch yourself falling in love with the same person over and over again despite them being miles away from you.
Read also: 21 Bittersweet quotes only long-distance couples can understand
When two hearts are meant for each other, no distance is too far, no time too long and no other love can break them apart.
If you can love, trust, respect, and support each other from a distance, then you'll be unstoppable once you're together.
When you feel like giving up, remember why you held on for so long.
Sweet long distance love quotes for boyfriend or girlfriend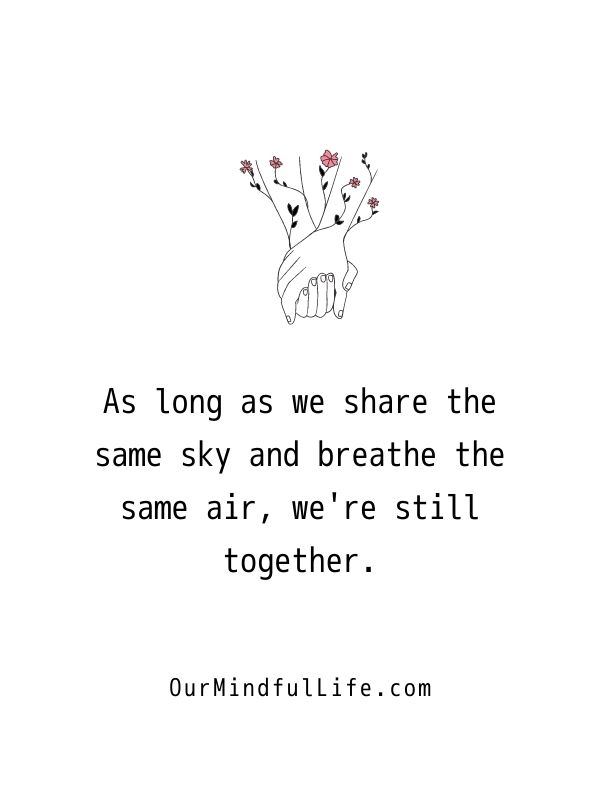 As long as we share the same sky and breathe the same air, we're still together.
– Donna Lynn Hope
Where you are is where I want to be.
The thought of being with you tomorrow gives me the strength to get through today.
– Anon
When people ask me what are we, I say "we are a perfect couple in a not-so-perfect situation."
When we close the gap, I will be dying to see the faces of people that say we can't make it.
Home is where you are.
No matter where I am, no matter where I go, your heart is my northern light, I will always find my way home.
– Michael Kilby
I never know someone could matter so much to me, even with miles in between.
I think about you every day. Knowing that you are thinking about me too makes it all ok.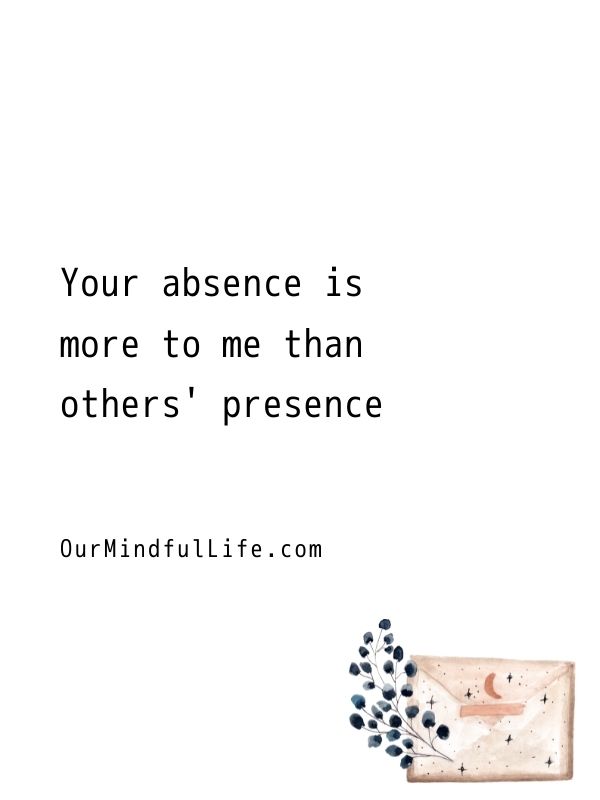 Your absence is more to me than others' presence.
I'll be kissing you every night, in my dreams.
Every hi and goodbye mean so much to me. If this is not true love, I don't know what is.
Your voice makes the wait tolerable.
You're too far for my hands to hold you, but too near for my heart to love you.
I exist in two places, here and where you are.
– Margaret Atwood
Distance gives us a reason to love harder.
No matter where I am, by your side or miles away, I will always be your cheerleader.
Even though we are miles apart, a part of you has grown in me.
I used to think long-distance relationships don't work. It's still hard. But you give me the faith to keep going.
You inspire me to grow every day so that we will both be the better version of ourselves the next time we meet.
I find pieces of you in every song I listen to. I miss you.
Everything about you is precious to me.
I wish I could hug you, kiss you, or just look at you every day.
I don't know why. But you make me feel differently.
You are always on my mind.
Loving you is brave. Missing you is hard. But seeing you again makes it all worth it.
We don't meet at perfect timing. But we are still perfect for each other.
Some day, all the wait will make sense.
Loving someone far away makes you love and hate the airport at the same time.
I hope when I am not around, you would go out and have fun. Maybe grab a beer with a friend and laugh off the bad moods away. It's not that I don't want you to miss me the way I miss you. Instead, I want you to live your life to the fullest. I want you to be so content that my absence doesn't break your heart as yours breaks mine.
Do you enjoy these LDR quotes?
I hope these quotes about being apart from someone you love help to remind you how beautiful true love is.
So what is long-distance relationships for you? Does it work out? Share your stories in the comment or email me at hello@ourmindfullife.com. I will love to know your thoughts!