What is the dark side of Leo personality? Why do people hate the Lions? These toxic traits of Leo may answer your questions.
Shower them with attention or not at all. This is my ultimate rule in dealing with Leo. Yes, dealing, not just casually getting along. The Lions need to be handled with delicacy. They are motivated, passionate, and charming when you are on their good side. Rub them the wrong way, and they will make you regret it.
As a daughter to a Leo mother, I sometimes felt like I was walking on a tightrope, especially when I was a kid. I had to be asleep by 10 pm, ate my food silently, and behaved at school as she expected. She made almost all family decisions before we could ever say no. If she decided that Thailand would be our next family trip destination, Thailand it is.
As I grew up, I started to appreciate the efforts Leo make for the rest of us. They are at the frontline taking care of everything, so we don't need to worry about it. They hide their struggle, and we would not know about it until it is perfectly solved. Most of the time, they are calm and collected. But when they are angry, they are not just angry – they are furious.
Read also: What Makes Each Zodiac Sign Angry? Pet Peeves and Taboos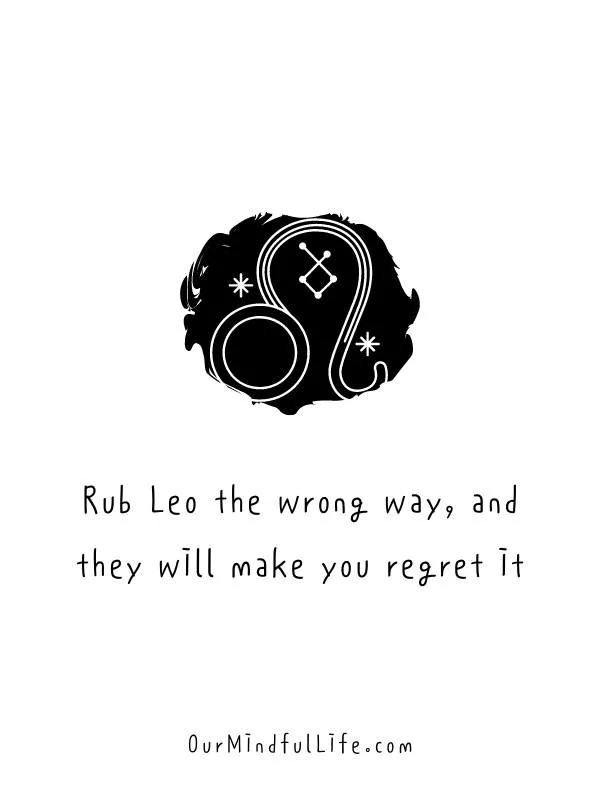 If you look at Leo celebrities, it seems like they belong to different types. The charming ones like Jennifer Lopez and Sandra Bullock, the funny ones like Maya Rudolph and Lisa Kudrow, or the alphas like Jason Momoa and Arnold Schwarzenegger. What they have in common is the ultimate confidence – a strong self-belief that carries them through the ups and downs. But the same positive trait of Leo could become toxic if going too far.
If you ever wonder why people hate the Lion, these toxic traits of Leo may answer your question. It's worth noting that a toxic trait or two don't make you a toxic person. With time and effort, we can work on them and become better friends, partners and a better person.
Also, we are more than our sun signs. Other placements play a role in our characteristics as well. If you believe in astrology, check out your birth chart, and you'll have a clearer view.
Lion's dark side – toxic traits of Leo
Self-entitlement
Leos are represented by lions, the king of the jungle. The sign is used to being in the spotlight. They believe that they deserve all the good things in life. That's why a less evolved Leo may take things for granted.
I had a friend who dated a Leo guy for several months. She broke up with him because he was not showing her enough respect. He would ask for a lift to the airport and left without saying thank-you. He also asked her out for dinner two hours before dinner, like her own schedule didn't matter. The self-entitlement led to confusion and resentment. And worst, he didn't even know what he had done wrong.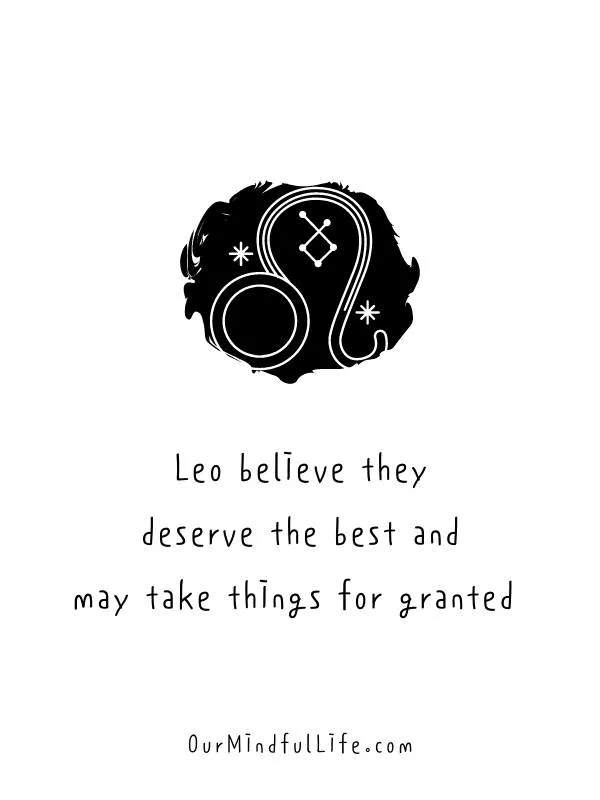 Self-entitlement is a sign of a narcissist. And the best way to deal with narcissists? Leave.
Their way or the high way
Leos have a hard time taking advice from others. It's probably because they believe their way is the best. Or it's out of protection for their ego. Try to convince Leo to do A, and they will do B instead – they are allergic to ideas forced on them.
Leo being headstrong can be a toxic trait as well as a vulnerability. It could get them manipulated into doing something they don't want to do. That's why Leo needs to surround themselves with good people and also take constructive advice with an open mind.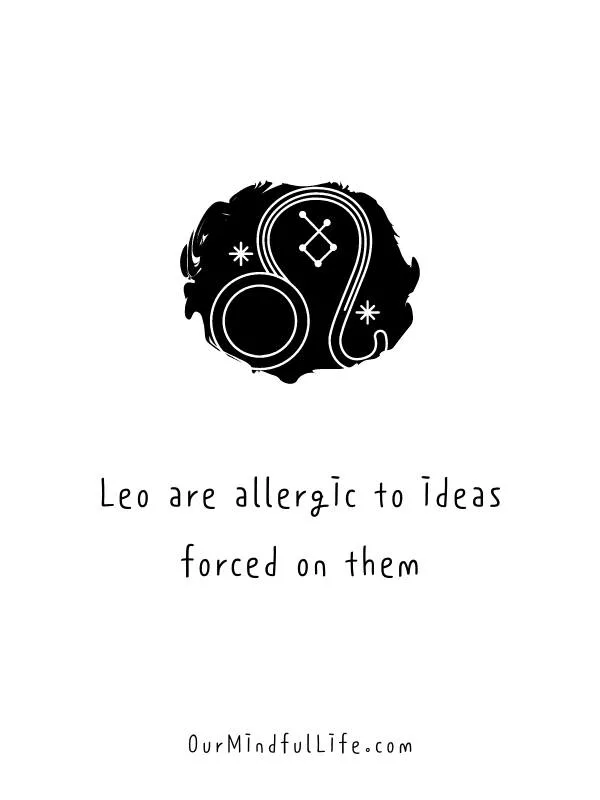 Self-centered
Does the world revolve around Leo? I have no idea. But it's a solid Yes for Leo themselves. Whether it's on purpose or unintentional, they always put themselves first. It's not wrong to prioritize their needs, but it could be a problem if all they see is themselves.
Evolved Leo will try to do the best for them but also take others into considerations. They are the basketball players who would ask for the ball but won't necessarily cut it from their teammates. Less evolved Leo rewrite the rules, make them the center, and others are non-existent.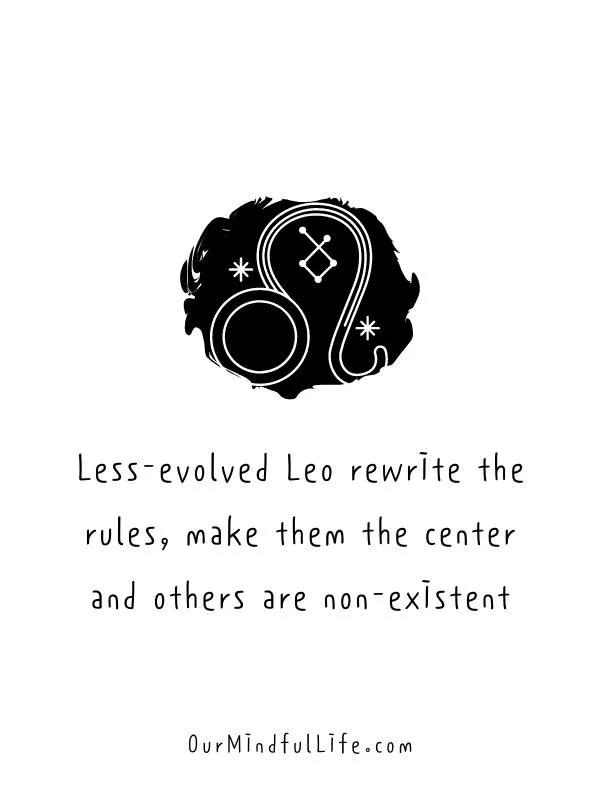 Sorry not sorry
One thing you don't do to Leo is to hurt their pride. For them, pride is everything. They need to be right and in power the whole time. Admitting their faults is not their thing. Consider time wasted waiting for a sincere apology from Leo. If you try to confront Leo for their wrongdoings, you might instead get rage in return.
Leo are not apologetic. In fact, they might not even feel they are the ones to blame. Their ego leads them to justify their behaviors rather than to self-reflect. And this toxic trait of Leo can push people away.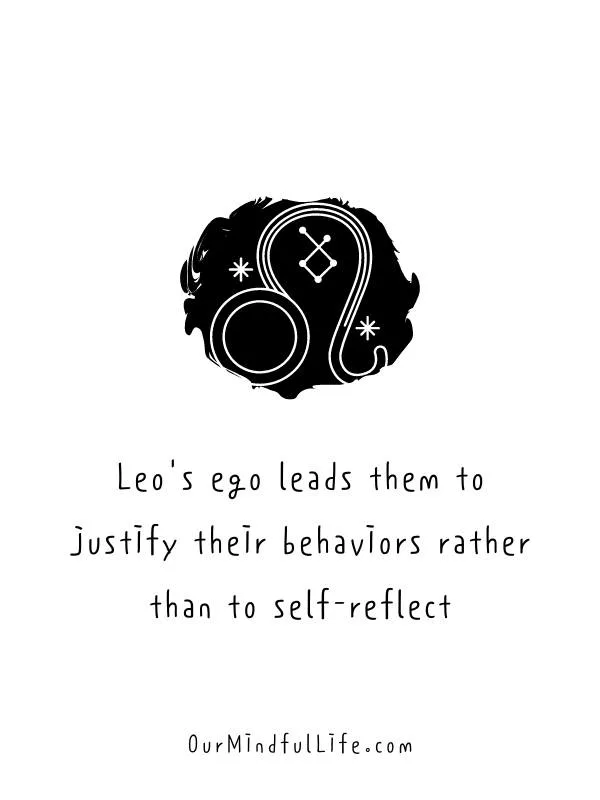 Read also: 39 Brutally honest Leo quotes that will make them feel attacked
A toxic trait of Leo – The craving for attention
With the sun being its ruling planet, the Leo sign is used to being the center. And the placement reflects on Leo people as a craving for the spotlight.
For example, Leo will post photos of their new cars on social media and show off their wealth to Internet strangers. They have a radar for big social events, and they will make sure they are on the attendant list.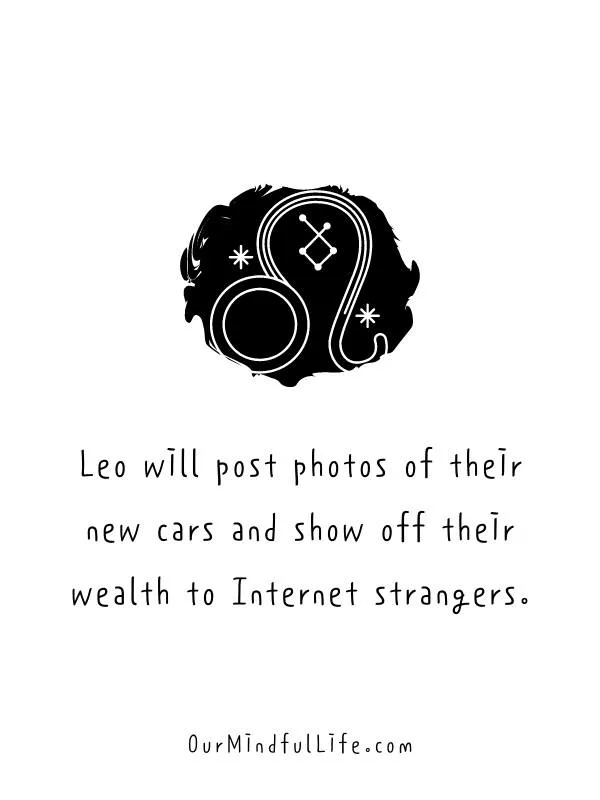 Attention-seeking is not always bad. But the failure to stay in the spotlight might frustrate Leo or encourage them to do something even more out of character.
Agree or disagree?
Do you find Leo toxic? Share your thoughts in the comment!
Read also: 34 Hilarious Leo memes that will make them cry and laugh at the same time