Need motivation to take action and beat procrastination? Here is a list of motivational go-getter quotes to stop waiting and start doing.
We all have goals in life and things we need to do. But sometimes, we just can't get ourselves to modify that resumé, return that phone call, or finish writing that paper. Meanwhile, checking your social feed seems so much easier. So hours pass, and nothing gets done.
So why do we procrastinate?
While we can easily blame it on the lack of motivation, the reasons behind procrastination differ from person to person.
It can be the fear of failure. We are afraid that what we aim to do might not work out the way we want, and it would all end up being a waste of time.
It might be perfectionism. When you are focused on getting everything perfect, it's easy to spend hours thinking and planning before taking action.
Or maybe we don't know where to start. You don't have a clear personal goal in mind that will motivate you to start right now.
And sometimes, it could be burnout. When there is no fuel left in the tank, it's no surprise that every task feels like a chore.
And to take action and slay your goals, you need to identify the problem. Then, lower your expectations, start with a tiny thing, or simply take a break. If you need an extra push or a reminder, here is a list of go-getter quotes to fire up your spirit.
Go-getter quotes to take action now
There are seven days in a week, and someday isn't one of them.
Hey girl, what if you fly?
Don't let the fear of failing hold you back. You never know how far you can go if you don't take the first step.
The distance between dreams and reality is called action.
So if your dreams look too far from you, don't waste one more second staying where you are.
Each journey begins with a single step.
Never let what you don't know stop you from doing what you do know.
– Orrin Woodward
Be prepared for uncertainty and challenges. But don't let them stop you from going where you need to go.
Do what you can, with what you have, where you are.
– Theodore Roosevelt
Make the best of your time, resources, and skills.
You don't have to be great to start. But you have to start to be great.
– Zig Ziglar
Read also: 36 Quotes On Goals and Goal-setting To 10x Your Life
Some people want it to happen, some wish it would happen, others make it happen.
– Michael Jordan
The secret of getting ahead is getting started.
– Mark Twain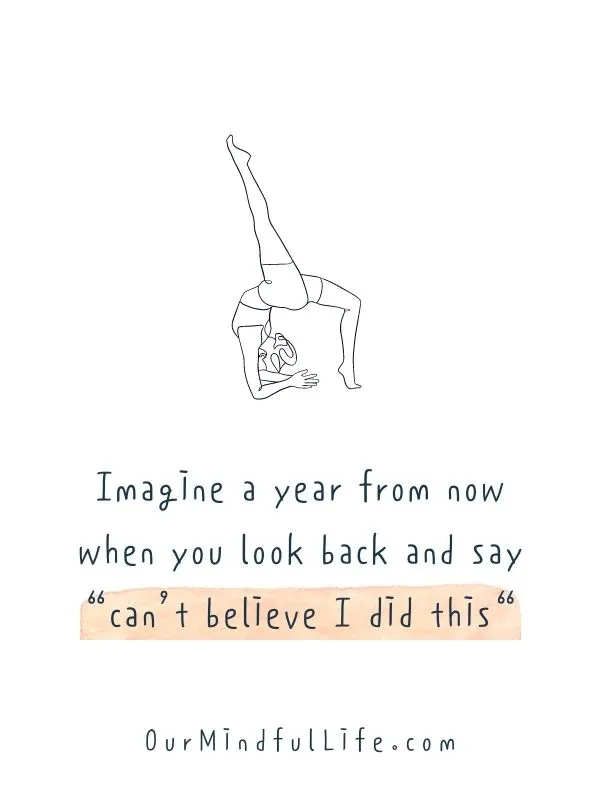 Imagine a year from now when you look back and say "can't believe I did this."
– Emma Xu
Time is all we have and don't.
– Atticus
Time is fair. Everyone has 24 hours in a day to achieve their goals. But once it's gone, it will never come back. So use your time wisely and make every second count.
Read also: 47 Inspiring quotes about time to make the most out of it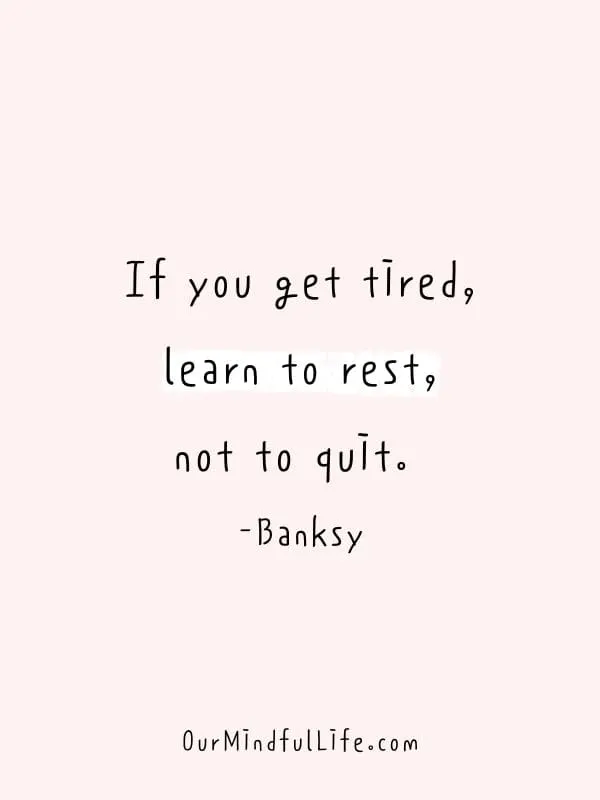 If you get tired, learn to rest, not to quit. – Banksy
The best view comes after the hardest climb.
You can. You should. And if you are brave enough to start, you will. – Stephen King
An ounce of action is worth a ton of theory.
– Ralph Waldo Emerson
It is easy to sit up and take notice. What is difficult is getting up and taking action.
– Honore de Balzac
Courage is feeling fear, not getting rid of fear, and taking action in the face of fear.
– Roy T. Bennett
When you want something, all the universe conspires in helping you to achieve it.
– Paulo Coelho
Believe in your vibes. And keep vibing.
An inch of movement will bring you closer to your goals than a mile of intention.
– Steve Maraboli
The seeds of greatness are planted in the daily grind.
– Adam Grant
Ambition is the first step to success. The second step is action.
Your doubts create mountains. Your actions move them.
– Mel Robbins
The future depends on what you do today.
– Gandhi
Empowering go-getter captions
Want to caption your Monday coffee and fire up your spirit? These short go-getter quotes will be your statements to embrace a can-do attitude.
May your actions match your ambition.
Let your action do the talking.
Read also: 34 Workout Motivation Quotes And Gym Quotes To Slay Your Fitness Goal
This life is what you make it.
– Marilyn Monroe
The most reliable way to predict the future is to create it.
Good things come to those who initiate.
– Susan RoAne
Improvements start with "I."
I am not meant to be subtle.
Don't be pushed around by the fears in your mind. Be led by the dreams in your heart.
– Roy T. Bennett
You are what you do, not what you say you will do.
– Carl Jung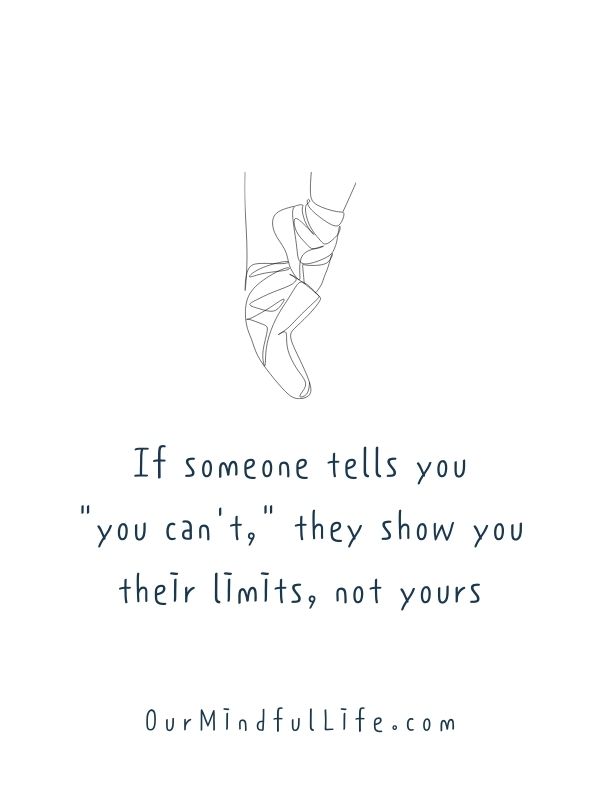 If someone tells you "you can't," they show you their limits, not yours.
If not now, then when?
Don't stop until you're proud.
Dare to begin.
Try your best to impress yourself.
Maybe swearing will help.
Everything you can imagine is real.
– Pablo Picasso
Monday sets the tone for the whole week to come. If drinking 3 cups of coffee is what you need to slay the day, do it.
Read also: 42 Monday Motivation Quotes To Start The Week Like A Badass
Be the change you want to see in the world.
– Mahatma Gandhi
The best time is now.
Good vibes happen on the tides.
0% luck and 100% hustle.
Read also: 43 Inspiring Hustle Quotes To Fire Up Your Motivation
Your only limit is your mind.
Thought-provoking quotes to stop procrastination
You can do anything, but you can't do everything.
It's okay to ask for help. It's okay to start small. One thing at a time. And small efforts add up to big results.
Worrying means you suffer twice.
Stop worrying and start taking action.
Read also: 43 Relatable quotes for overthinkers
You don't have to see the whole staircase. Just take the first step.
– Martin Luther King Jr.
Read also: 32 Martin Luther King Jr. Quotes For Those Who Have A Dream
Everything you want is on the other side of fear.
Don't wait. The time will never be just right.
– Napoleon Hill
Winners find ways. Losers find excuses.
Great people do things before they are ready.
– Amy Poehler
The best time to start is now.
Twenty minutes of doing something is more valuable than twenty hours of thinking about doing something.
– Unknown
Thinking will not overcome fear, but action will.
– W. Clement Stone
Patience is not the ability to wait. Patience is to be calm no matter what happens, constantly take action to turn it into positive growth opportunities and have faith to believe that it will all work out in the end while you are waiting.
– Roy T. Bennett
Do you enjoy these go-getter quotes?
I hope these motivational go-getter quotes can give you an extra push to take action. If you have your personal favorite, don't forget to leave a comment.