A list of Tuesday quotes to bring your good vibes or put a smile on your face.
So Tuesday, huh? Some say Tuesday is Monday's ugly sister. And I can feel that.
You've just gone through a probably chaotic Monday. And the weekend is out of sight. It seems too late to make ambitious weekly goals and too early to talk about your weekend plans.
So here is a list of motivational Tuesday quotes, or quotes about Tuesday that will put a smile on your face. I hope they will bring joy to your day, and maybe, before you even notice, you are crossing items off your to-do list one after another.
Inspiring Tuesday quotes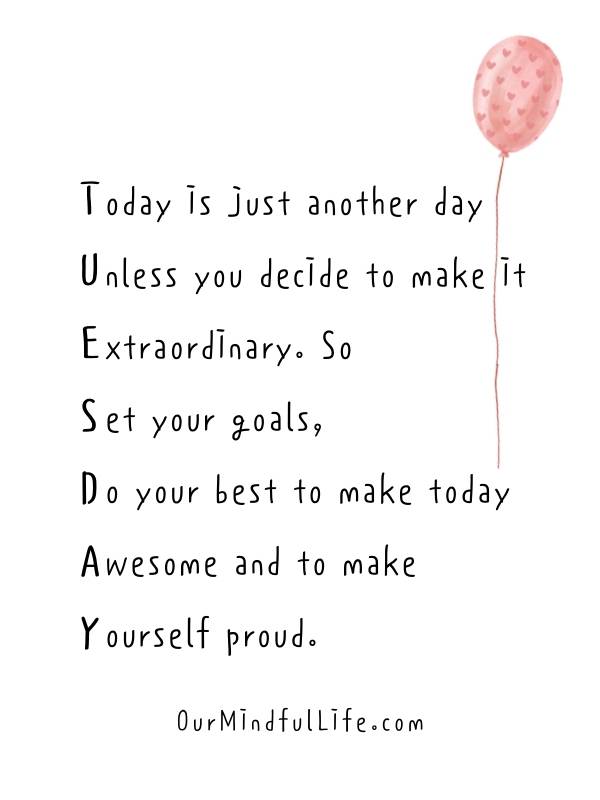 Today is just another day
Unless you decide to make it
Extraordinary. So
Set your goals.
Do your best to make today
Awesome and to make
Yourself proud.
It's Choose-day. Let's choose kindness, choose passion, choose gratitude, choose happiness and choose yourself.
Tuesday is the day to finish what's left on Monday before Wednesday arrives.
Thoughtful Tuesday:
Every journey is different
One thing at a time
Celebrate small wins
Honor your feelings
Make someone smile
My Tuesday intention is compassion. That includes compassion for other people and myself. Everyone is fighting a battle that we may never know about. Be the one who makes difficult, less difficult. And be there for yourself too.
If your Monday didn't go so well, Tuesday is the day to try again.
As the first day of the week, Monday is usually piled with tasks from last week, long meetings, and lots of coffee. It's ok to be behind schedule. Tuesday is the time to catch up and lay a solid foundation for the week.
Read also: 46 Monday Motivation Quotes To Start The Week Like A Badass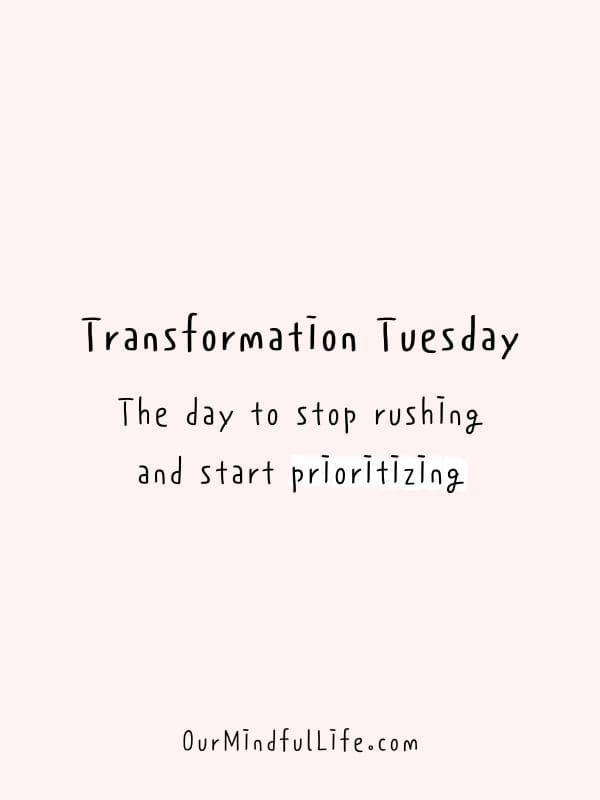 Transformation Tuesday:
The day to stop rushing and start prioritizing.
We can blindly hustle through the week, or we can thoughtfully tackle our tasks. Make Tuesday the day to start taking control of your time and energy.
You won't have this Tuesday again. Make it count.
We can't stop the time from passing away. But we can decide what to do with it. Choose wisely.
A man who dares to waste one hour of time has not discovered the value of life.
– Charles Darwin
Tuesday: 4 days until Saturday to make things happen.
Instead of counting the days and waiting for the weekend, imagine Tuesday as the new Monday. If you only have four days to complete what you need to do in a week, how will you make it happen?
Delegate the less critical tasks? Schedule the important but difficult ones on your prime time? Or maybe set an email filter so you'll need less time to go through them.
Make small changes, and at the end of the week, you may find yourself getting more done and stressing less.
Don't count the days. Make the day count.
Yesterday is gone. Tomorrow has not yet come. We have only today.
– Mother Theresa
A diamond is a chunk of coal that did well under pressure.
– Henry Kissinger
How you perform under challenging situations is proof of your tenacity and endurance. Talent may get your far, but these qualities will get you further.
You can sit and whine about Tuesday, or you can get down to work and make the Wednesday you proud.
– Emma Xu
Any day can be a new beginning.
Good things come to those who work for it.
Your vibes won't lie. What you focus on, you manifest.
Visualize your best self and start acting like her.
You don't need five tabs opened to get things done—one thing at a time.
Multi-tasking is false productive, as proven by science. You will achieve more and stress less when you focus on one thing at a time. And it's never too late to make that shift. Start today.
Today, be the badass you don't have time to be yesterday.
Read also: 61 Bad Bitch Quotes To Awaken Your Inner Savage
Deep breath and baby steps.
Funny Tuesday quotes
Tuesdays were my favorite day. It was just something about the way that u looked like when it was next to e that seemed very friendly.
– Maggie Stiefvater
Tuesday is proof that you survive Monday.
After Tuesday, even the calendar says W-T-F.
Instead of heading for a big mental breakdown, I decided to have a small breakdown every Tuesday evening.
– Graham Parke
My mind powers don't work on Tuesdays.
– Kelly Creagh
You can't help respecting anybody who can spell TUESDAY, even if he doesn't spell it right.
– A.A. Milne
Read also: 43 Inspiring Winnie the Pooh Quotes from A.A Milne
Can I squeeze Tuesday, Wednesday, and Thursday into Monday night?
– Emma Xu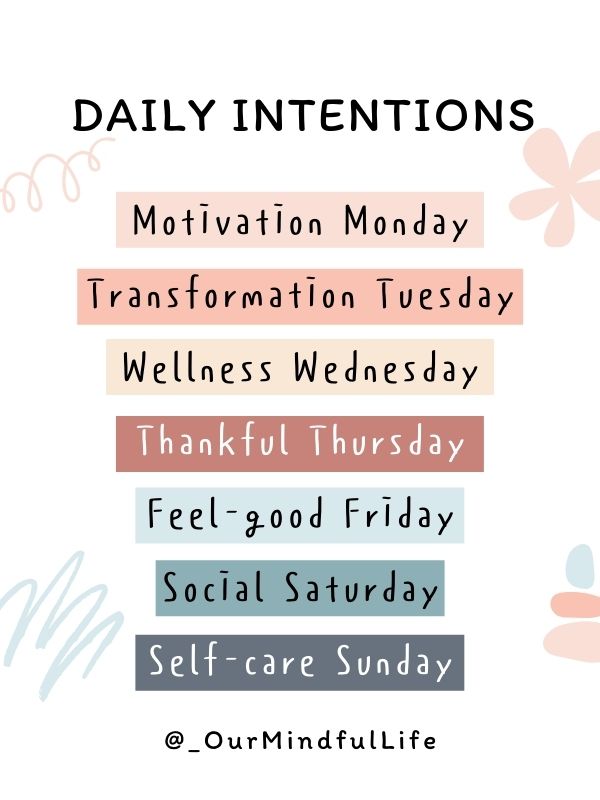 Which of these Tuesday quotes resonate with you?
I hope these quotes and sayings about Tuesday make the day easier for you. Which one is your favorite? Tell me about it in the comment or DM me on @_ourmindfullife!
Check out quotes of every day:
Monday quotes / Tuesday quotes / Wednesday quotes / Thursday quotes / Friday quotes / Saturday quotes / Sunday quotes