Love Saturdays? Who doesn't? From funny sayings to good morning messages, these Saturday quotes will magnify the Saturday joy.
Who doesn't love Saturday? I mean, it's everyone's favorite day of the week, right?
Without work or school, you can enjoy the day as you like. Whether going out with friends or staying in with snacks and Netflix, any regular activity feels better on Saturdays.
For me, as an introvert, my Saturdays look a lot like a crazy cat lady reading by a fireplace with unlimited coffee refills. It's the day I don't need to worry about calls, emails, or work obligations. And because family days are Sunday, I have the entire Saturday to myself.
For you, Saturday may be the time to explore a new place, to try a new restaurant in town, or to catch up with your besties. Either way, Saturday is the fun day. And if you love the day as I do, you will resonate with these inspiring and funny Saturday quotes.
Scroll on with the list. And start your day with a big smile on your face!
Best Saturday quotes to enjoy the day to the fullest
Relatable and funny Saturday quotes
What is your Saturday like? If your Saturday routine includes a bed, pizza, and movie marathon, you are not alone.
Sunday is for family, and Saturday is the day for yourself. You can do whatever you want without being judged. If that means sleeping till noon or having lunch in bed, why not?
So scroll on with these funny Sunday quotes. And maybe you will find something that makes you say, "wow, that's me."
It's an add-to-cart kind of day.
Saturday is the day to do nothing and still feel good about it.
My Saturday was going pretty well until I realized it was Sunday.
Saturday is for shopping, online, in bed.
The week will be better if…
Monday comes with a Next button
Wednesday comes with a Fast Forward button
Saturday comes with a Replay button
Sunday comes with a Pause button
Saturday doesn't bring good vibes. Saturday IS good vibes.
If you are not my dog, don't try to wake me up on Saturday.
Saturday and Sunday give us something to hope for on Monday.
Three places you can find me on Saturday:
My bed
The fridge
The bathtub
"What is your ideal life be like?"
"The Saturday kind of life."
Best feeling ever: waking up at 8 am and realizing it's Saturday, and you don't need to go to work.
Saturday is the only day I am ok with people making plans without me.
Anxiety gets an immediate 30% off on Saturdays.
Dear Saturday, you are my favorite.
New adventures begin on Saturday evening.
Oh, my sweet Saturday, I have been waiting for you for six long days.
– Charmaine J Forde
Better days are coming. They are called Saturday and Sunday.
– Unknown
I really need a day between Saturday and Sunday.
– Unknown
Inspiring Saturday quotes
Saturday is more than a day. It's a way of life. And that's probably why we love Saturday so much – it represents freedom, joy, and relaxation.
But what if we can live every day like a Saturday? Will life be so much better? Of course, it's easier said than done. Sometimes it requires you to have a job you are passionate about. But other times, all you need is a change in mindset.
Read through these inspiring Saturday quotes, and you may find a way to live every day like Saturdays.
Saturday intentions
Sleepy Saturday
Shopping Saturday
Stress-free Saturday
Self-care Saturday
S'more Saturday
Saturday is the day to create memories that you will tell your grandkids.
Saturday is the day to embrace the best of you, not what's left of you.
If you are waiting for the day to make yourself a priority, today is the day.
Little things for Saturday
A smile at strangers
Hugs from family
Brunch with besties
A movie with a loved one
A beer after pizza
The time you enjoy wasting is not wasted.
Read also: 47 Thought-provoking quotes about time
Be with someone who makes every day feel like Saturday.
You can have fun and enjoy the most out of the day and still take a much-needed break.
You are not a loner for wanting to be alone on Saturday. Everyone recharges differently.
Read also: 48 Self-care quotes to put yourself first
It's ok to pause your life until you are you again.
Life is too short to wake up in the morning with regret. Live today to the fullest.
Yesterday is history. Tomorrow is a mystery. Today is a gift. That's why it is called the present.
– Alice Morse Earle
Saturday is the perfect little gift you get after a week's sweat and tears.
When people strive for work/life balance, they end up blending them. That's how you end up checking email all day Saturday.
– Tim Ferriss
Every day may not be good. But there's something good in every day.
– Alice Morse Earle
Keep your face to the sunshine, and you cannot see a shadow.
– Helen Keller
There was nothing like a Saturday – unless it was the Saturday leading up to the last week of school and into summer vacation.
– Nora Roberts
Love me like Saturday night, like three glasses of champagne, like the room is spinning, like you're drunk on my love.
– C.J. Carlyon
Imagine living a life where every day is your Saturdays and Sundays. Make every day your weekend. Make every day a play-day.
– James A. Murphy
Every man has a right to a Saturday night bath.
– Lyndon B. Johnson
I miss Saturday morning, rolling out of bed, not shaving, getting into my car with my girls, driving to the supermarket, squeezing the fruit, getting my car washed, taking walks.
– Barack Obama
I have to be alone very often. I'd be quite happy if I spent from Saturday night until Monday morning alone in my apartment. That's how I refuel.
– Audrey Hepburn
Happy Saturday quotes and messages
Happiness gets better when it is shared. If you are excited about this Saturday, don't keep it to yourself. Share the joy with your friends, family, and your partner. You never know how much you can light up someone's day with a simple good morning message.
Have someone in mind? Scroll on with these Happy Saturday quotes to find the ones that will melt their hearts.
We are only as happy as we choose to be. Happy Saturday.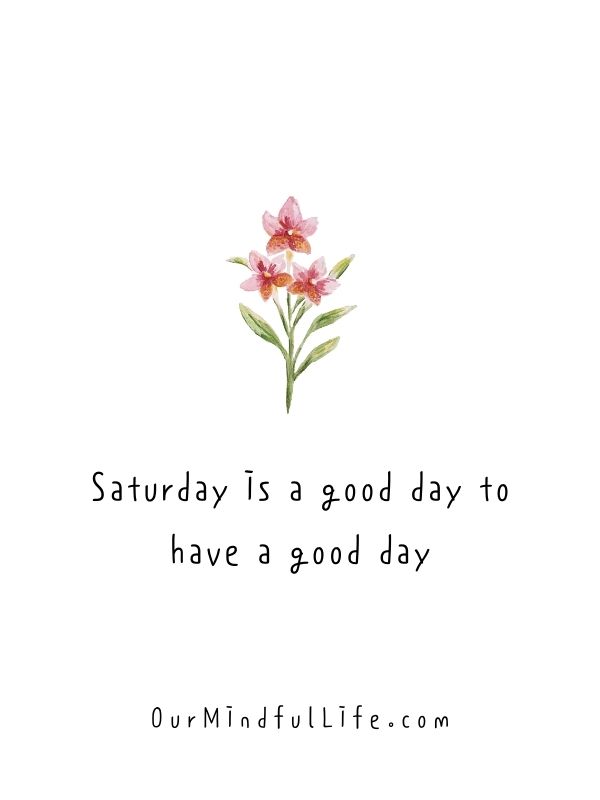 Saturday is a good day to have a good day.
You make my Happy Saturday happier.
Don't wait for the perfect moment. Take the moment and make it perfect. Happy Saturday!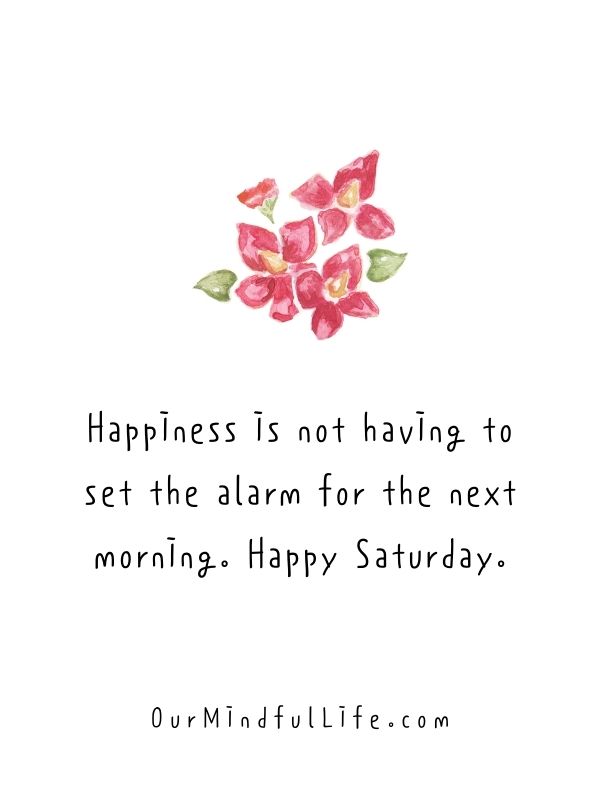 Happiness is not having to set the alarm for the next morning. Happy Saturday.
Be the reason someone smiles today. Happy Saturday.
I hope there are days when your coffee tastes like magic, your playlist makes you dance, strangers make you smile, and the night sky touches your soul. I hope there are days when you fall in love with being alive.
– Brooke Hampton
If there's no sun shining in the sky today, be your own sunshine. Happy Saturday.
Which of these Saturday quotes resonates with you?
What is the best Saturday you've ever had? Share in the comments!
Check out quotes of every day:
Monday quotes / Tuesday quotes / Wednesday quotes / Thursday quotes / Friday quotes / Saturday quotes / Sunday quotes