A list of Monday motivation quotes, sayings, and memes to help you get through the day with your head held high.
Monday mundane.
We all agree that Monday sucks. It is the day when we drag our reluctant selves back to school or office, facing a pile of unfinished stuff from last week.
While most of us hate Mondays, Monday can actually be the best day in a week.
Research shows that if we start a new project or set a new goal on Monday, we are more likely to follow through. According to another study, we are more motivated at the beginning of a period, like the morning, Monday, and New Year. And strange enough, we are more likely to make healthy food choices on Monday according to this research.
Monday is not only a fresh start but also a second chance. Each Monday, we can fix what went wrong last week and take on new challenges. When we focus on the bright side, we can achieve something great even on the most unpopular day of the week.
With that said, Monday is just another day. Monday scares are more often a mindset than actual problems. To set a positive tone for the week, here is a list of motivational Monday quotes for work and for study.
Monday motivation quotes and sayings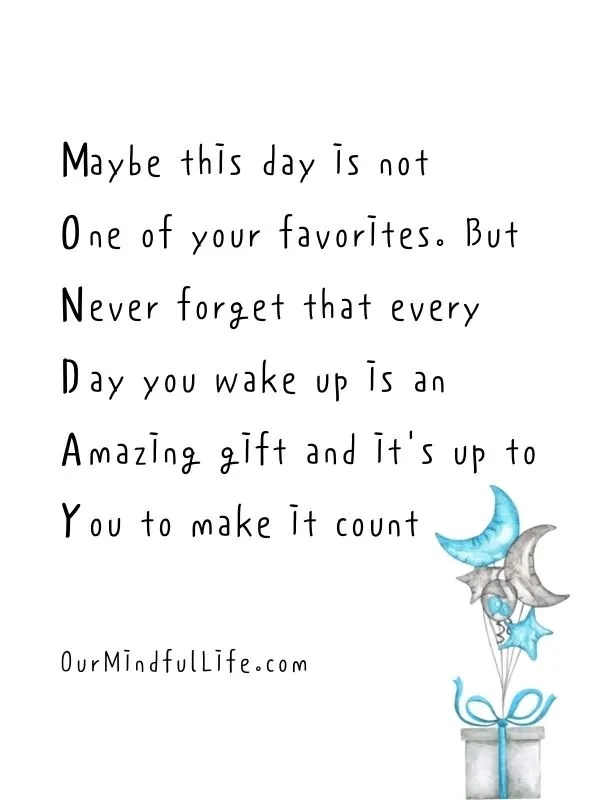 Maybe this day is not
One of your favorites. But
Never forget that every
Day you wake up is an
Amazing gift and it's up to
You to make it count.
– Unknown
Monday's are dress rehearsals for the New Year.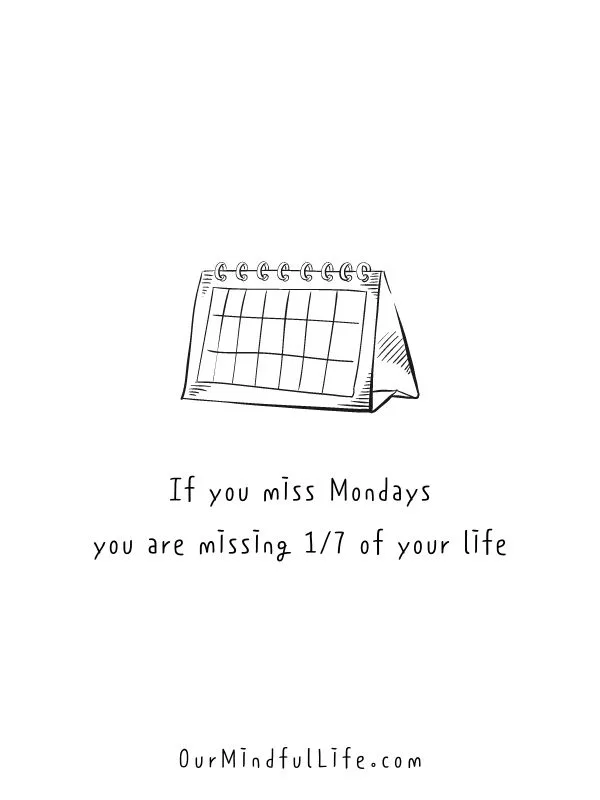 If you miss Mondays, you are missing 1/7 of your life.
Success is to wake up each morning and consciously decide that today will be the best day of your life.
– Ken Poirot
Read also: 69 Motivational success quotes for when you need to push yourself a bit harder
Monday intentions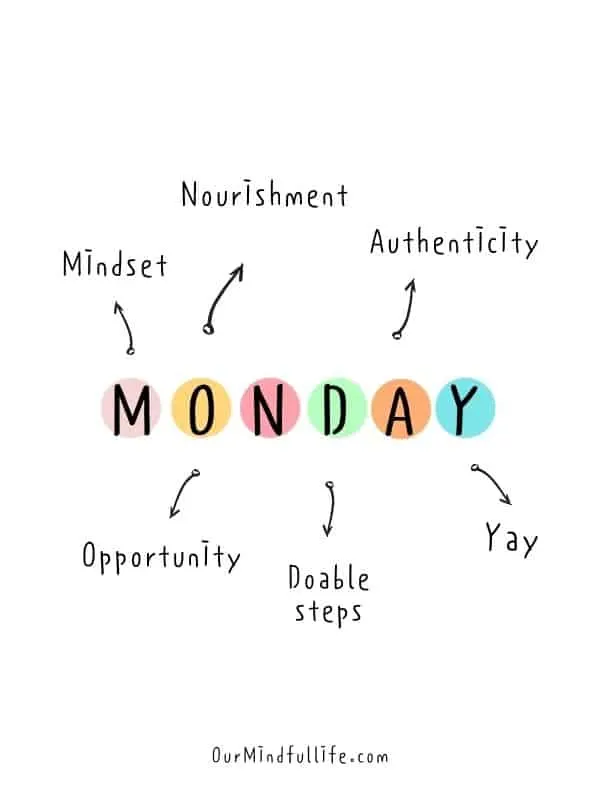 Mindset: Train my brain to see the bright side with a can-do attitude⠀
Opportunity: Say yes to adventures and changes⠀
Nourishment: Spoil my body with healthy food⠀
Doable steps: Focus on the next step instead of the whole staircase⠀
Authenticity: Be me and let my authentic self attract my people⠀
Yay: Celebrate when the day is over, because- let's be honest – Monday is a lot.⠀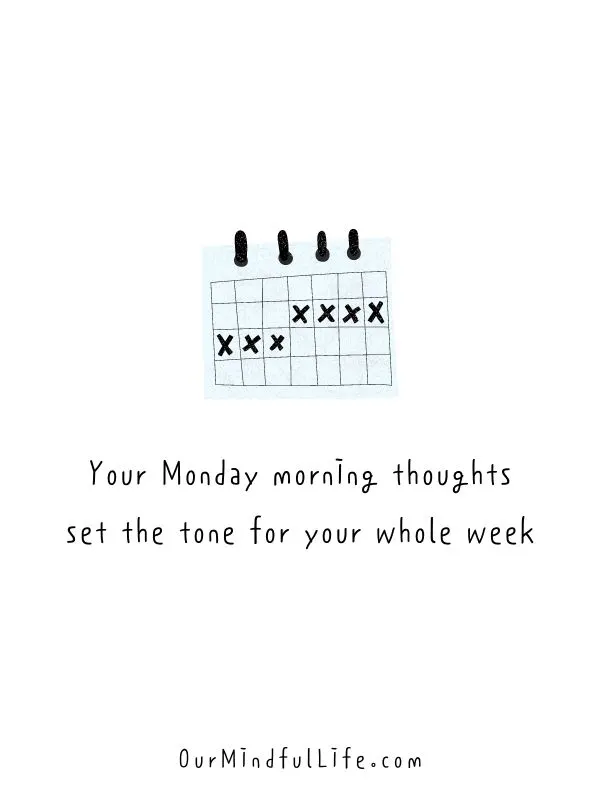 Your Monday morning thoughts set the tone for your whole week. See yourself getting stronger, and living a fulfilling, happier & healthier life.
– Germany Kent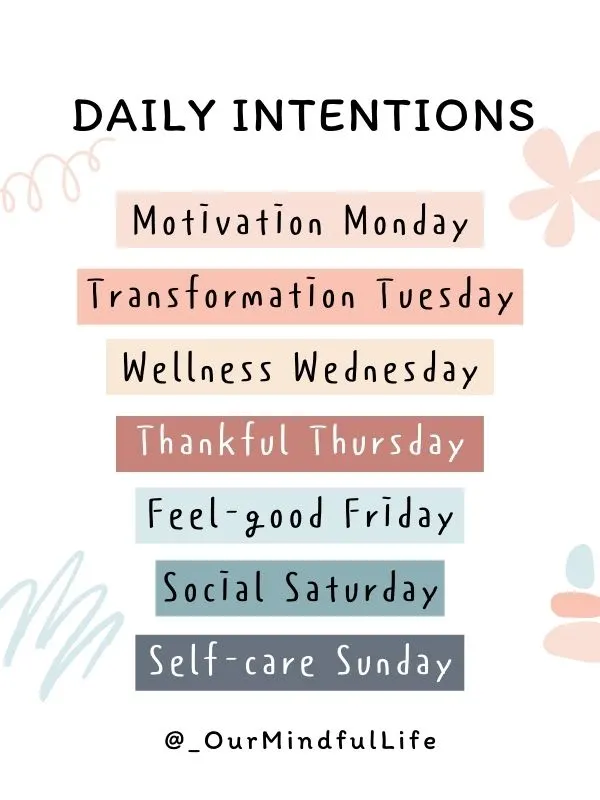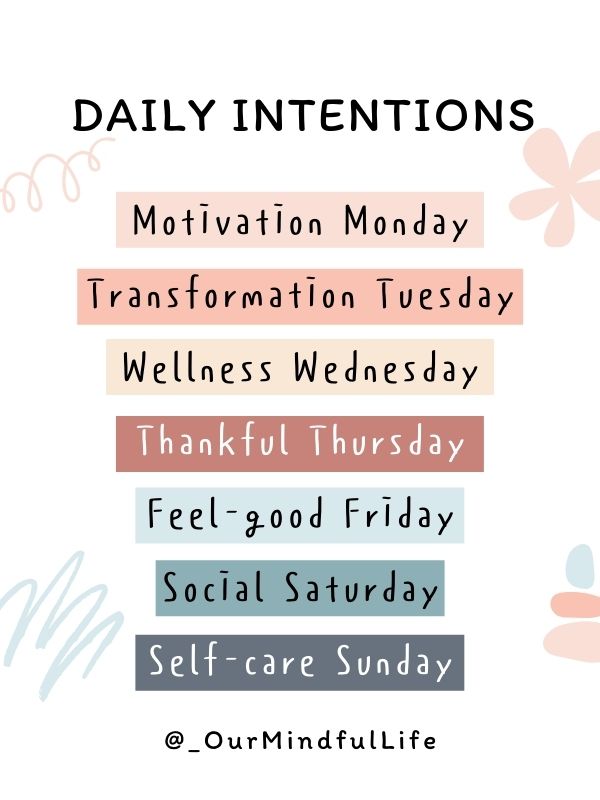 The best time to start is NOW.
Mindful Monday Humans, May your coffee kick in before reality does.
– Napz Cherub Pellazo
Read also: 38 Coffee quotes to kick–start your day strong
If you can survive Monday's, you can thrive on the rest of the week.
Choose your Monday mantra:
Motivation Monday
Mindful Monday
Mighty Monday
Mindset Monday
Me-time Monday
We either make ourselves happy or miserable. The amount of work is the same.
– Carlos Castaneda
You don't need a New Year to make a change. All you need is a Monday.
If you don't like the road you're walking, start paving another one.
– Dolly Parton
If your Monday blues seem to be undefeatable and work is like a prison, chances are you are not doing what you are passionate about. Instead of feeling miserable every Monday, start chasing your real passion. Make mistakes, fail and try again until you make it.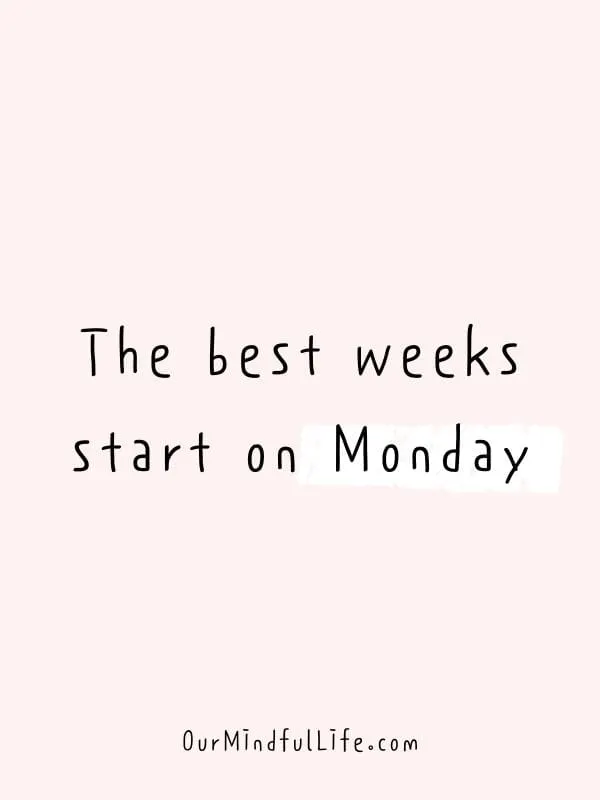 The best weeks start on Monday.
– Nice Peter
We waste so many days waiting for the weekend. So many nights wanting morning.
Our lust for future comfort is the biggest thief of life.
– Joshua Glenn Clark
Monday is the day to make this week better than the last one.
Monday = New day / New week / New me
Hi Monday. We meet again.
Mondays are the start of the week which offer new beginnings 52 times a year!
– David Dweck
The worst Monday is the one that gets wasted for nothing.
Live the day as if it's your last.
Mondays belong to goal-getters.
You will never have today again. Make it count.
Inspirational Monday quotes and memes
Monday to-do list:
1. Wake up
2. Drink coffee
3. Slay goals
Read also: 38 Sassy quotes to slay your goals today
The earth has never stopped moving, growing, evolving for anyone, and neither should you.
– Nikita Gill
Today is your opportunity to build the tomorrow you want.
– Ken Poirot
A Monday gratitude list: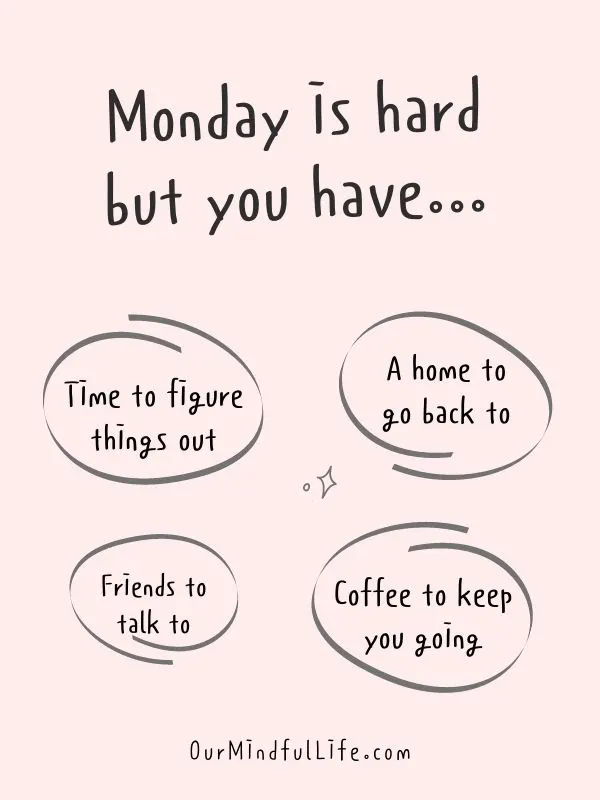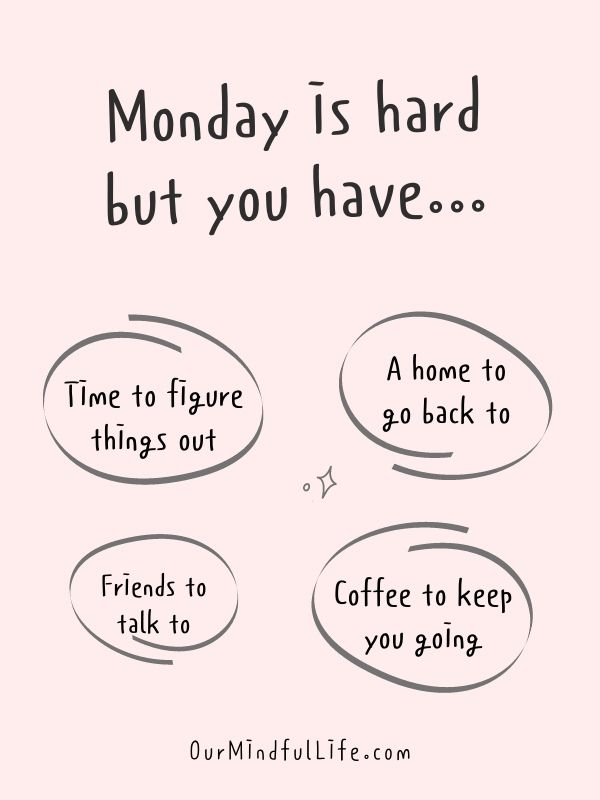 Monday is hard, but you have:
A home to go back to
Time to figure things out
Friends to talk to
Coffee to drive you forward
Monday reminder: Do what you said you'll do last week.
Even if you're on the right track, you'll get run over if you just sit there.
-Will Rogers
Keep your face to the sunshine and you can never see the shadow.
– Helen Keller
Do what you can, where you are, with what you have.
– Teddy Roosevelt
Mindset is everything.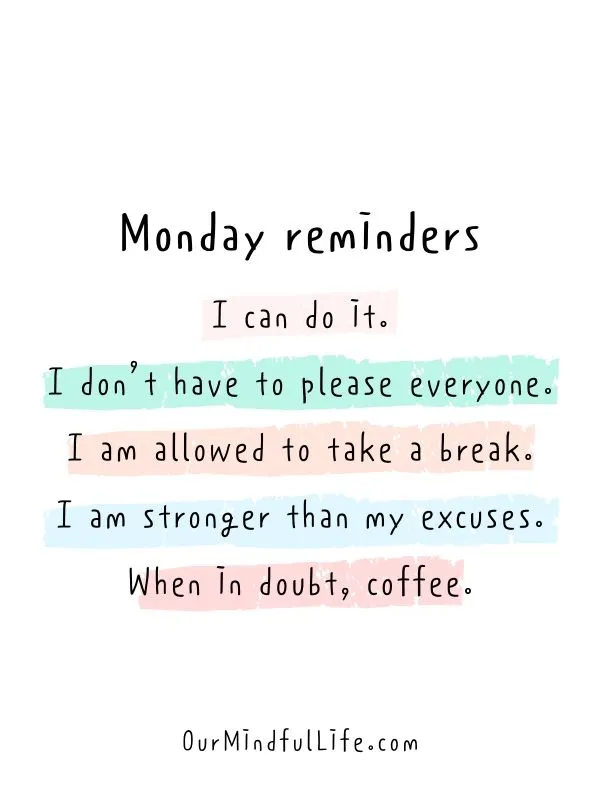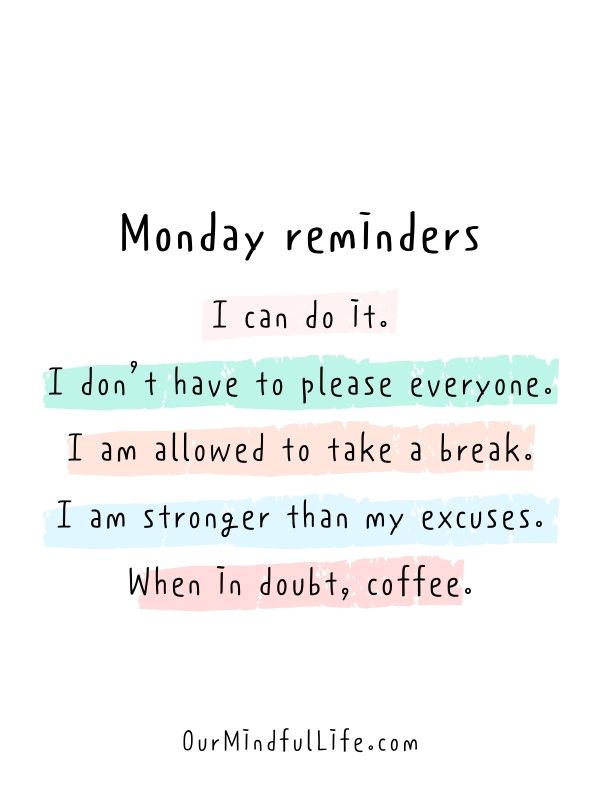 Monday reminders:
I can do it.
I don't have to please everyone.
I am allowed to take a break.
I am stronger than my excuses.
When in doubt, coffee.
Read also: 42 Self-reminders and note-to-self for when you have a bad day
You don't need to figure everything out in a day. Keep going.
You either get bitter or better.
When you focus on the good, the good gets better.
Be the energy you want to attract.
Your speed doesn't matter. Forward is forward.
A little progress each day adds up to significant results.
Don't be pushed by your problems. Be led by your dreams.
– Ralph Waldo Emerson
Be thankful for what you have, and you'll end up having more.
– Oprah Winfrey
Life is not a series of problems to be solved, it's a journey that you should be fascinated by.
– Brianna Wiest
Everything's a risk. Not doing anything is a risk. It's up to you.
– Nicola Yoon
The key to success is to start before you are ready.
– Marie Forleo
Funny Monday quotes to carry you through the day
May your coffee be strong and your Monday be short.
Monday mood:
Unfinished tasks from last week
Not enough coffee
Already planning for weekend
Can I leave early today?
Does running away from Monday counts for cardio?
Shit is hard. Do it anyway.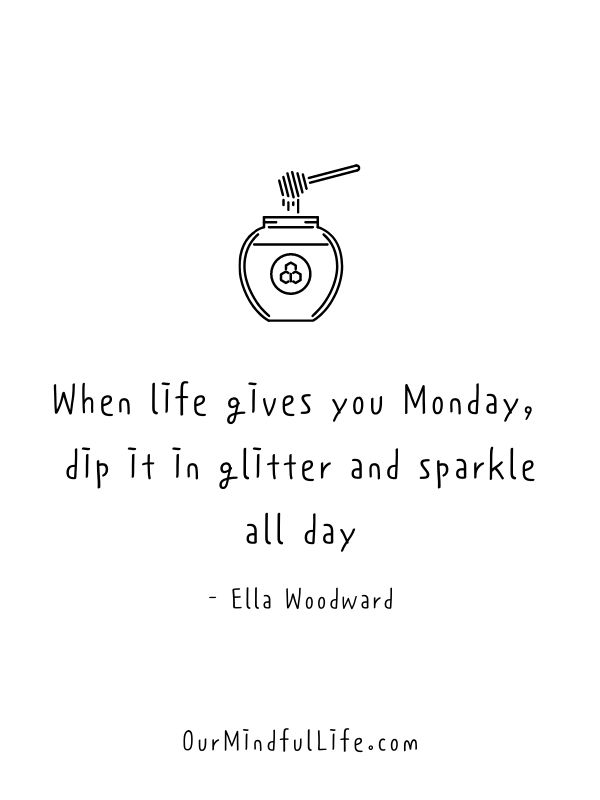 When life gives you Monday, dip it in glitter and sparkle all day.
– Ella Woodward
Mondays and Fridays were just twenty-four-hour stretches of time with different names.
– Julie Murphy
Which of these Monday quotes resonate with you?
A good day can fall on any day of the week. And any day is only as good as how you look at it.
If these Monday quotes inspire you in any way, don't forget to share with a friend who may need some Monday motivation as well.
Check out quotes of every day:
Monday quotes / Tuesday quotes / Wednesday quotes / Thursday quotes / Friday quotes / Saturday quotes / Sunday quotes