A list of inspiring self-doubt quotes to stop worrying and start embracing your full potential
Have you ever been so excited about a new project or an idea that you can't sleep at night? Then the "what-ifs" sneak in and later becomes never?
I have. It's all too familiar for me. I ask myself numerous questions before hitting that GO button: Can I actually do this? What if I fail? Am I going to look bad? Is it a waste of time? The voices in my head are consuming my energy and dragging me down.
That's why I keep collecting and writing inspiring quotes that help me overcome my self-doubts. If you've been holding back from your dreams just because you are not so sure, this list of quotes may help you to find your power back.
Inspiring self-doubts quotes to actually go for it
The worst enemy to creativity is self-doubt.
– Sylvia Plath
To choose doubt as a philosophy of life is akin to choosing immobility as a means of transportation.
– Yann Martel
We learn from failure, not from success.
– Bram Stoker
If you never fail, you never learn.
FEARLESS is having doubts. Lots of them. To me, FEARLESS is living in spite of those things that scare you to death.
– Taylor Swift
Doubt kills more dreams than failure ever will.
– Suzy Kassem
The problem with the world is that the intelligent people are fall of doubts and the stupid ones are full of confidence.
– Charles Bukowski
It's ok to live a life others don't understand.
Never trade authenticity for approval.
Confront your fear and turn the mental blocks into building blocks.
– Dr. Roopleen
Criticism is just someone else's opinion. It is up to you to choose whether to believe some of it, none of it, or all of it. What you think is what counts.
– Rodolfo Costa
Don't be satisfied with stories, how things have gone with others. Unfold your own myth.
– Rumi
The moment you doubt whether you can fly, you cease forever to be able to do it.
– J. M. Barrie
When you're different, sometimes you don't see the millions of people who accept you for what you are. All you notice is the person who doesn't.
– Jodi Picoult
When someone tells me "no," it doesn't mean I can't do it, it simply means I can't do it with them.
– Karen E
Believe you can and you're halfway there.
– Theodore Roosevelt
Strength grows in the moments when you think you can't go on but you keep going anyway.
Go after what you want, not what you know you can easily have.
– Emma Xu
The same light you see in others are shining within you, too.
Strength is how you shut down the voice in your head that says "I can't".
– Emma Xu
You are not "not good enough".
You are just not seeing clearly enough, not trying hard enough, and not trusting yourself enough.
– Emma Xu
Explore within and move forward. Sometimes the answer you need is within you.
The worst feeling in the world is not seeing your efforts in vain but looking back and realizing you could have made it.
– Emma Xu
No one is you and that's your strength.
You never know how capable you are until your passion meets your determination.
– Emma Xu
The more you do, the less you overthink.
Everything you've ever wanted is on the other side of fear.
– George Addair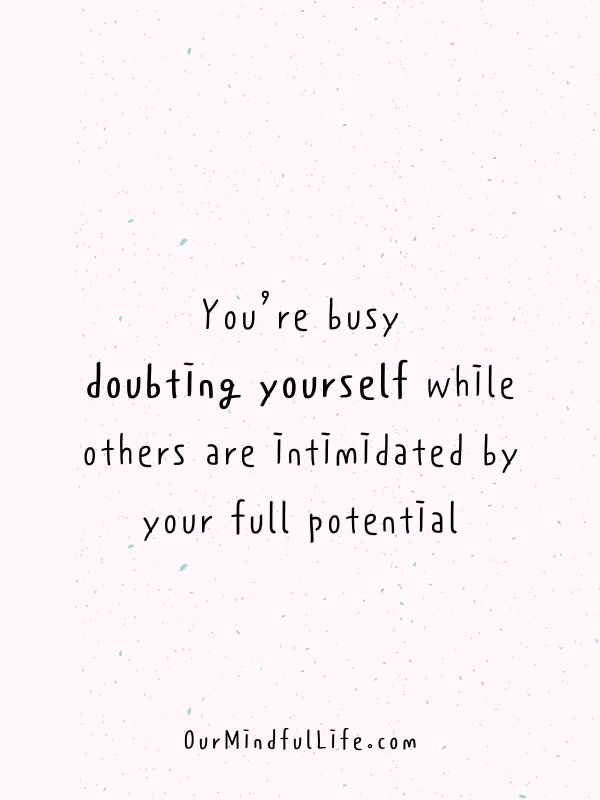 You're busy doubting yourself while others are intimidated by your full potential.
Stop worrying about how it's gonna happen and start believing that it will.
– Michaela Olexova
You don't get what you want by worrying about it. You get it by actually putting in the work.
– Emma Xu
Miracles happen to those who believe in them.
Read also: 42 Relatable Overthinker Quotes To Stop Thinking Too Much
Never let what you don't know stop you from doing what you do know.
– Orrin Woodward
Thinking will not overcome fear, but action will.
– Clement Stone
Read also: 49 Inspiring goal-getter quotes to take action now
Better an oops than a what if.
Which of these self-doubt quotes resonates with you?
Tag @_ourmindfullife on Instagram to share with me your thoughts or leave a comment down below!