Need a right-on-point caption for your selfie? Here is a list of funny and sassy quotes that are full of wit, humor, and attitude.
Have you ever been in the mood but don't know how to express yourself? Sometimes, it's hard to find a line that says what you want to say without being mean or sour.
And that's the art of sassiness: finding the perfect wording that is blunt, humorous, and witty. So here is a list of sassy quotes and captions for when you are in the mood.
So whether you feel like you have a rough day, or someone crosses your line, or maybe you just ended a relationship for good, you will find something to caption your post or put in your bio.
Sassy quotes and captions for every mood
Table of content
Quotes for when you feel off
Sassy quotes for haters
Funny quotes for Instagram bio
Savage quotes about love and relationships
Sassy quotes for when you feel off
It's ok not to be ok. And it's ok to feel tired or down now and then. We all have bad days or unmotivated times when we just want to lie on the couch and binge-watching Netflix. So if you prefer to be left alone and chill for the moment, these sassy quotes will be the perfect "do-not-disturb" sign for you.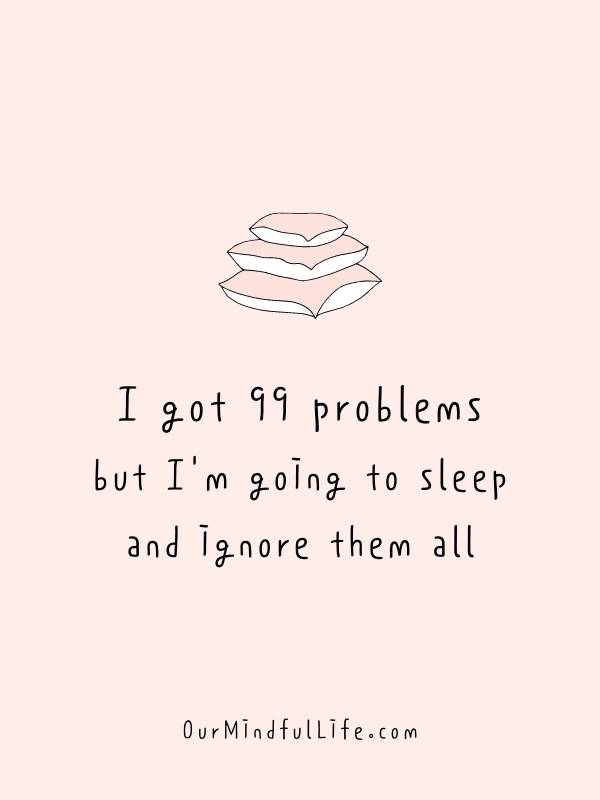 I got 99 problems, but I'm going to sleep and ignore them all.
Only the mediocre are always at their best.
– Jean Giraudoux
Pay for unlimited calls. Talk to no one.
Remember when I asked your opinion? Yeah, me neither.
I don't have attitude problems. I have an attitude, and that's different.
Sorry if I look like I'm not interested. I'm not.
I don't hold grudges. I remember facts. And that's different.
When nothing goes right, go to sleep.
Mentally somewhere else.
I know that it seems like on the outside, I don't care. But on the inside, I care less.
I am not lazy. I am on energy-saving mode.
When life gives you lemons, make lemonade and throw it on the face of the person who gave you the lemons until they give you the oranges you originally asked for.
– Jace, Shadowhunters
When I'm feeling down, and someone says "suck it up," I get the urge to break their legs and say, "walk it off."
Read also: 22 Funny and sassy toxic positivity memes
Savage quotes for haters
We all have haters or someone who doesn't know how to respect your boundaries. Instead of minding their own business, they point fingers at people that shine. But haters are going to hate. If you have a hater in your life that keeps coming after you or gossiping about you, these sassy quotes will be exactly what they need.
What doesn't kill you disappoints me.
For you to insult me, I would first have to value your opinion.
Be like the sun. Keep on shining and let them burn.
"I am fine."
"You don't look fine."
"Then stop looking."
You don't know me. You only know who I allow you to know.
Judge me when you are perfect.
I think you underestimate how little I care.
Some people just need a high-five. In the face. With a chair.
If someone hates you for no reason, give them a reason.
Breaking news: I don't care.
Read also: 23 Don't care quotes to give less f*cks
Some people are such treasures that you just want to bury them.
Sorry. Did I roll my eyes too loud?
Be a unicorn and stab people with your head.
What they say about me isn't true. I'm worse.
I don't care if you don't like me. You barely like yourself.
Sassy and funny quotes for Instagram bio
The world has enough cute people. But cute and witty and sarcastic people with an attitude? Not so many. And if you are one of them, these sassy and savage quotes will be your perfect personal statement.
I don't dress up for boys. I dress up to stare at my reflection as I walk by the store window.
Stay classy, sassy, and a little bit bad-assy.
I speak fluent sarcasm.
Not perfect, but always myself.
When someone says you can't do something, do it twice and take pictures.
Everything I like is either illegal, immoral, or fattening.
– Alexander Woollcott
Between two evils, I always pick the one I never tried before.
– Mae West
If you can't be kind, be quiet.
Bad choices make good stories.
Chilling like a villain.
I don't necessarily agree with everything I say.
I am a nice person as long as you don't push the b*tch button.
She has a heart of gold, a life that's young, and a soul that's old.
– r.m.borderick
Talking to myself for some expert advice.
I am not for everyone.
Too glam to give a damn.
Hurt me, and I'll bleed Dior.
Turn off your TV and think for yourself.
Don't put out your fire because someone doesn't understand your flame.
I can resist everything except temptation.
– Oscar Wilde
Go to Heaven for the climate, Hell for the company.
– Mark Twain
Thick thighs, thin patience.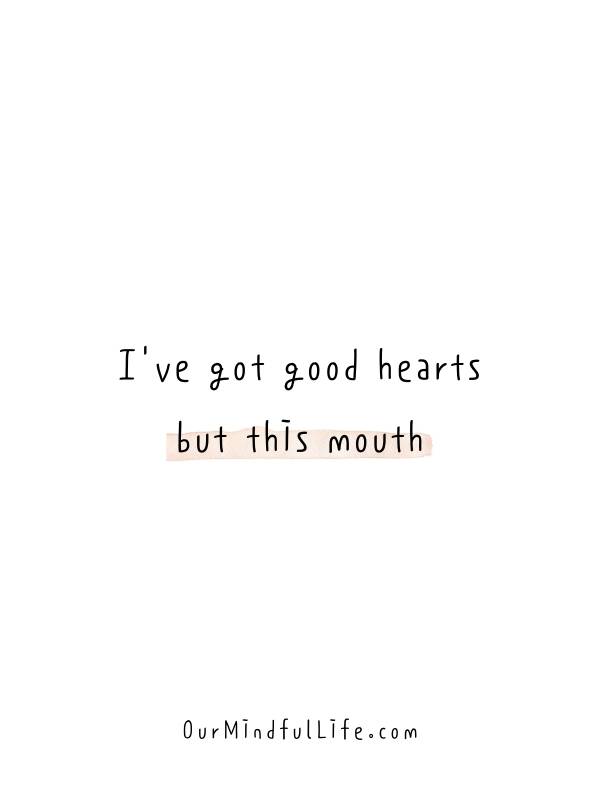 I've got good hearts but this mouth.
Savage quotes about love and relationships
Love gives us all the feels. So whether it's a breakup, a crush, a heartbreak, or someone who doesn't recognize your worth, say it out and shrug it off with these sassy and badass quotes.
Choose me or lose me.
If you are the player, then I am the coach.
Treat me like a joke, and I'll leave you like it's funny.
Sweet as sugar. Cold as ice. Hurt me once, and I'll break you twice.
Keep showing me I don't worth your attention, and I'll show you how regret feels like.
Roses are dead. Love is fake. Weddings are basically funerals with cake.
– Rick and Morty
Don't be a player. I'll beat you in your games.
I laugh at my mistakes. So excuse me if I laugh at your face.
I believe in annoyed at first sight.
"Are you seeing anyone?"
"Like a hallucination, therapist or a boy?"
I only fight for those who fight for me. Sorry not sorry if you are not one of them.
Behind every great man is a woman rolling her eyes.
– Jim Carrey
If you are not going to swim deep with me, get out of my water.
– Bridgett Devoue
Pizza delivery guys are so underrated – they have pizza, a car, and a job.
Happiness is having a large, loving, caring, close-knit family in another city.
– George Burns
I wish people come with a 30-second trailer so I can see what I'm getting myself into.
I don't block you because you need to see what you've lost.
If I cut you off, chances are you handed me the scissors.
Read also: 43 Toxic relationship quotes to leave for good
Dating should be included as an Olympic sport.
– @brittanypaigedesigns
I'm not like Adele. I don't wish the best for you. Nor do I want to find someone like you. I do, however, want to set fire to all your stuff.
I crave intimacy, but I don't want temporary people touching my mind, body, or soul.
– @manifestinglord
Which of these sassy quotes resonates with you?
Or if you have a savage or funny quote to live by, share in the comment and get featured!