Don't know where to start with your vision board? These amazing vision board ideas will ignite your motivation and spark your creativity.
If you don't currently have a vision board, it's time to create one because it may just be what you need to manifest your goals. People are not just making vision boards for their rooms and office space. They also host vision board parties and share the joy and motivation in the making.
What's the buzz, you may ask? There are several reasons why vision boards have captured the hearts of so many. They are like a roadmap, providing clarity and a sense of direction. They are also like a creative playground that allows you to combine inspiring images, quotes, and affirmations and craft your masterpiece. The best part? They are like your personal cheerleader. Every time you are frustrated or have a bad day, they are there to give you a boost of motivation and confidence.
So what exactly is a vision board? And how do you create a vision board that will help you to manifest your goals and bring joy and prosperity to your life?
What is a vision board?
A vision board is a powerful tool for visualizing and manifesting your dreams and goals. By putting together images and words that reflect your intentions, you instill positive beliefs in your subconscious mind and transform your goals into reality.
Much like a mood board, a vision board is a visual roadmap guiding your journey. It keeps you focused and motivated, especially during challenging times. For example, if you aim to adopt a healthier lifestyle, your vision board might include images of wholesome meals and your fitness role models, along with workout quotes. So whenever you feel tempted to skip a workout or go back to unhealthy habits, your board will remind you of your goals and get you back on track.
How to create an inspiring vision board?
There are three steps in creating a vision board: think, gather, and assemble.
First, reflect on your goals and purposes. You can use self-awareness prompts to dig deep into your desire and intention. When you understand yourself better, your final product will accurately align with your goals, maximizing its transformative power.
Then, start collecting images and vision board quotes that resonate with your aspirations. Take all the time you need in this step and build a habit of collecting inspiration in your daily life. They can be images, quotes, or affirmations that you resonate with.
Now that you have a collection of inspirations, you can print or cut them out and start arranging them onto your board. Organize them by themes or create a more spontaneous collage—there are no strict rules. The idea is to create a visual representation of your dreams and desires.
Once your vision board is complete, hang it up in a spot where you'll see it daily. It could be in your bedroom, office, or any space that feels right. Each time you look at your vision board, immerse yourself in the feelings and emotions associated with your goals. Visualize yourself already living your desired life, and let that positive energy fuel your actions and decisions.
Fun and inspiring vision board ideas
A blank canvas can be overwhelming when you start creating your vision board. That's where vision board ideas come in handy. They provide a starting point, guiding your imagination and giving you a clearer idea of how to arrange your images, quotes, and goals.
They can also help you explore themes, color schemes, and styles that resonate with you. Seeing what others have done will spark your creativity and enable you to uncover your own vision for your board.
So for your inspiration, I have put together a massive collection of vision board ideas. Keep scrolling, save what speaks to you, and start creating your own.
Learn from the best
Role models are empowering. By putting their images on your vision board, you create a visual reminder of the qualities and achievements you admire in them. This vision board featuring Khloé Kardashian and Oprah is the perfect example. A vision board like this becomes a powerful tool to harness their inspiration and motivation as you aspire to emulate their success.
Vision board for entrepreneurs
Words are powerful. With a bunch of inspirational vision board quotes, this collage of wisdom becomes a source of motivation for women that are building their empires. Each chosen quote is a guiding light, uplifting your spirits and igniting a fire within.
Vision board with specific financial goals
Vision boards are a powerful tool for manifestation. It becomes even more potent when you set a clear goal, just like the number in the bank account in this vision board example. By making your goals as accurate and specific as possible, you are actively inviting abundance and prosperity into your life.
Black and white vision board
While some people love to decorate their vision boards with different patterns and irregular shapes, you can never go wrong with a simple layout. Opting for a clean and straightforward design allows the focus to be on the core elements. Using a simple layout also creates a sense of visual clarity and coherence, making it easier to connect with your goals and aspirations.
Vision board with positive affirmations
Looking for a boost in your confidence? This vision board may give you some ideas. With the relatable affirmations, this collage serves as a gentle reminder that you are capable, strong, and deserving of success.
Couple goal vision board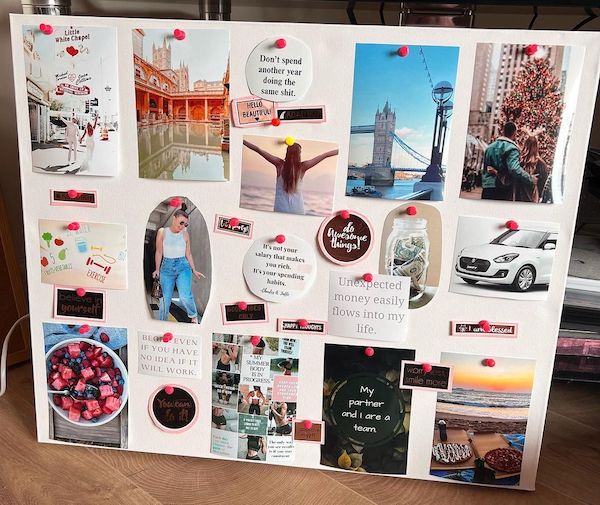 How adorable is this vision board idea! It's heartwarming how it incorporates photos of the couple. Adding those cherished moments captured in photographs makes this vision board a delightful celebration of love, connection, and shared dreams.
Body goal vision board
This vision board with body goal images is the perfect fuel for your workout motivation. It's incredible how visuals can inspire us to push ourselves and strive for our fitness goals. It's like having your own personal trainer urging you to stay dedicated and motivated on your wellness journey.
30th birthday vision board
Making a vision board may just be the best way to celebrate a milestone in life, like the 30th birthday! It's a chance to visualize the person you want to become, the experiences you want to have, and the accomplishments you want to achieve. Each image, quote, or word you choose will bring you closer to a future you aspire to.
Personalized digital vision board
Many people prefer making digital vision boards to physical ones. With just a few clicks, you can curate a visually stunning collage using images, quotes, and graphics from various online sources. Set it as your phone wallpaper, and you can carry it wherever you go.
Girl boss vision board
A vision board with one consistent color scheme is not only visually pleasing but also magnifies your intentions' impact. This girl boss vision board is the perfect example. Each element seamlessly blends together, forming a cohesive visual representation of ambition and girl power.
Aesthetics vision board
Another digital vision board comes to life! By putting together images and quotes about traveling, friends, family, and workouts, this captivating mosaic captures the essence of a vibrant, balanced, and fulfilling life.
Bullet journal vision board
If you love bullet journaling, your journal can also serve as your vision board! With markers, washi tape, or stickers, the creative process allows you to express yourself, reflect and rejuvenate. As you flip through the pages of your bullet journal, you'll be reminded of your purposes, goals, journey, and achievements worth celebrating.
Girly flower-themed vision board
The images of blooming flowers can bring life to a vision board. The vibrant colors and delicate petals of flowers symbolize growth, beauty, and the blossoming of dreams. Whether it's a single flower or a vibrant bouquet, these images evoke feelings of joy, optimism, and the promise of new beginnings.
Affirmation vision board
Affirmations are indeed powerful that reflect your purpose and intentions. They are like seeds of intention planted within your subconscious mind. And when combined with other visuals on your vision board, they reinforce your desires and beliefs and bring your desired life closer to you.
Health and fitness vision board
Health is a big part of life. Without it, success and abundance will not be possible. That's why this vision board idea, which focuses on the pursuit of physical health, is absolutely awesome. The images of wholesome meals, fitness goals, and inspirational quotes about self-care all come together to reinforce your commitment to a healthy lifestyle and ignite the motivation to make wise choices.
Balance of life
This vision board encompasses four essential categories: family, self, business, and hobby. It serves as a constant reminder to nurture your relationships, prioritize self-care, pursue professional growth, and indulge in hobbies that bring you joy.
Blue color scheme vision board
Isn't this blue vision board absolutely beautiful? The color blue has a way of captivating our hearts and minds. It evokes feelings of tranquility, serenity, and a sense of freedom. Like the ocean, the color blue on this vision board reminds us of endless possibilities and our boundless potential.
Nature-inspired vision board
Vision boards not only provide motivation and clarity but can also serve as a refreshing escape during your day. By incorporating photos of nature, you invite the beauty and tranquility of the natural world into your daily life.
Boundless vision board for artists
A vision board doesn't always have to be a physical board. If you have a white wall in your house, it can be the perfect canvas for your dreams and aspirations.
The beauty of using a wall as your vision board is that it offers ample space for creativity and expansion. As your goals evolve, you can continuously add new elements and rearrange existing ones. It becomes a dynamic representation of your dreams, constantly evolving with you.
Hand-drawn vision board
While many people use images and quotes printed or cropped out from magazines, drawing on your own vision board adds a personal touch and allows your creativity to shine. Instead of relying solely on external sources, a hand-drawn vision board gives you the freedom to express your unique ideas.
Dream life vision board
Empowering pink aesthetic vision board
This vision board is dedicated to empowering and inspiring all the girl bosses out there. It combines vibrant images and powerful quotes to motivate and encourage women to chase their dreams, conquer their goals, and embrace their unique strengths.
The pink color not just echoes the theme of the vision board, showcasing girl power. It also creates a cohesive and appealing look that will capture attention at first sight.
Fitness vision board
Vision boards can be a reflection of one's attitude and lifestyle. And this is one of them. By combining captivating images and powerful quotes about health and wellness, this board encourages a healthy lifestyle, perseverance, and self-discipline.
Vision board with a neat layout
This vision board might not be the fanciest one, but its simple and clean layout holds its own charm. Sometimes, less is more, and this vision board focuses on clarity and minimalism to provide a clear direction for your aspirations.
Summer goal-setting vision board
This vision board is dedicated to celebrating the joys of summertime and embracing a confident and healthy summer body. With its vibrant energy, a vision board like this will inspire you to make the most of the summer season while cultivating self-love and body positivity.
Hand-written notes vision board
Instead of using cutout words and quotes from magazines, this vision board takes a more intimate and personal approach by featuring a series of hand-written notes. Not only does it allow you to capture your thoughts at the moment, but it also adds a personal touch to the overall look.
The desired life
I love how flexible this vision board is. All the notes and images are stuck to the board with a pin, allowing easy rearrangements and updates. The to-do list is a great way to schedule tasks of the day and prioritize. So it becomes a practical productivity tool instead of just an inspiration.
Keep your goals visible
This vision board shows the key to manifesting your goals – making them visible. Filled with colorful images, inspiring quotes, and personal affirmations, this board keeps you motivated and focused on what you want to achieve.
Cute heart-shaped vision board
This vision board clearly belongs to someone with lots of love at heart and a bubbly personality. The unique heart-shaped design and the choice of fonts and images all reflect her bright outlook on life and cute aesthetics.
Super crisp and clean vision board
This vision board may seem simple and clean, but it covers a wide range of aspects of life. From personal growth and relationships to health and well-being, it aims to provide a holistic representation of your purposes and intentions.
Intention setting vision board
If you have a word of the year, your vision board is ideal for showcasing it. Instead of cluttering the board with quotes, the owner keeps it short, precise, and on point by using words to represent her intentions. Each word holds a significant meaning, embodying the essence of her aspirations and guiding her actions throughout the year.
Minimalist resolution vision board
This manifestation board goes above and beyond by incorporating images of the owner herself, creating a strong sense of reality and connection to her desires. By featuring pictures of herself, she visually aligns her desired life with her real life, fostering a deep sense of belief and confidence.
Travel inspiration vision board
If you have a love for travel or crave a virtual escape, this vision board is a perfect inspiration. It takes you on a visual journey with stunning images of captivating destinations worldwide. Each picture serves as a window to another place, giving you relaxation and a sense of peace after a long day of work.
Money goal vision board
The placement of different elements of the board may seem arbitrary. But I love how serious the owner was when she created this board. The check, the title of her dream job, and the photo of herself all scream "reality," showcasing her faith and unwavering commitment.
Photo collage vision board
@lisa_williams_visionboardqueen
Vision board for travelers
It's time to start planning your next destinations and satisfy your wanderlust! This vision board is here to ignite your travel dreams by featuring captivating images of the places you desire to visit.
Self-love vision board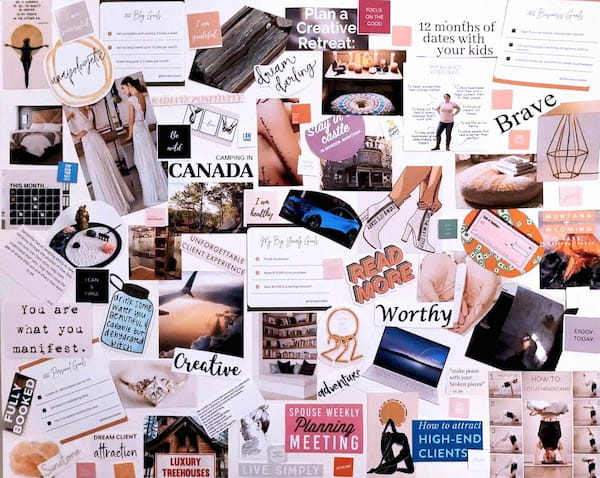 I love how this vision board points out the importance of knowing one's worth. It will be a constant reminder to embrace your worthiness in all areas of life. It encourages you to set boundaries, pursue your dreams, and stand tall in your authenticity.
Simple and clear vision board
Vision board with numbers
Having numbers on a vision board is a great idea because it adds an extra layer of clarity to your goals and intentions. Whether it's saving up a specific amount of money, hitting a target weight, or checking off a set number of accomplishments, numbers bring a fun and measurable aspect to your vision board.
Simple vision board
This vision board is beyond adorable, with a standout element that catches the eye: a cute dollar bill! The inclusion of the dollar bill serves as a powerful symbol of financial abundance and prosperity. It's a visual reminder to attract wealth and abundance into your life.
Sleek and goal-oriented vision board
This is definitely a vision board with an attitude. With its bold statements and carefree vibe, this board is like a sassy best friend cheering you on. It's a reminder to embrace your uniqueness, take risks, and live life on your own terms.
Sleek bullet journal vision board
This vision board in a bullet journal captures hearts at first glance. The harmonious blend of colors creates a soothing and inviting atmosphere, while the loving images remind you of the importance of cultivating love and compassion in your life.
Transformative vision board
Uncluttered and minimalistic vision board
Instead of filling every inch, the creator embraces the beauty of simplicity and the power of minimalism. The strategic use of negative space allows the mind to breathe and your creativity to flow. The images with low saturation add a sense of calmness and subtlety, creating a safe and serene space.
Vision board for abundance
Image-focused vision board
This vision board might not have a lot of words and quotes. But the message is clear. The images of cars, dream houses, handbags, and a target of Youtube subscribers all represents a desired aspect of your life. This vision board is a bold statement, reminding the owner of his purpose, goals, and the person he aspires to be.
Vision board for couples
Vision board for men
Unlike the traditional approach, this board commands attention with its distinct aesthetic. The clean lines, bold typography, and strong visual elements give it that extra edge. So, if you're looking for a board that's effortlessly cool and oozes masculinity, this one is for you.
Vision board for success
Wellness-focused vision board
This vision board carves out significant space to highlight the importance of self-care and pampering your skin, reminding you to give your skin some love and attention. With this vision board by your side, you'll be glowing like a superstar in no time.
Stylized and fun vision board
What a fun collage of images that reflect the creator's life philosophy! Take the quote, "The day you plant the seeds is not the day you eat the fruit," for example. It's a reminder that success takes time and patience, trust the process, and you'll be there one day.
Vision board for writers
This unique vision board features the images of the hamsa, the seven chakras, the wheel of life, and other meaningful symbols, channeling the inner strength of the owner. With an inspiring vision board like this, the owner can conquer writer's block with peace of mind.
Vision board about well-being and prosperity
Vision board on the wall
Another frameless vision board on the wall. With the green, white, and black color palette and the images of the woods, the collage brings a sense of tranquility and grounding energy, making it a visual escape for those who seek moments of stillness.
Vision board with flower decoration
Talking about a 3D vision board. The collage features aesthetically pleasing images and quotes with a cohesive minimalistic style. But the flowers truly bring this simple vision board to life. They add a touch of natural beauty, infusing the space with color and grace. They also prove that, with a bit of creativity, you can come up with a wowing and unique design.
Wellness vision board
Which of these vision board ideas resonates with you?
Or have you made your own? Leave a comment down below to share your thoughts!