Winter is about joy and celebration. Embrace the season's charm with these uplifting and relatable winter quotes.
Winter may be cold, but it's also a time filled with warmth and joy. The holiday season brings families and loved ones together, creating precious memories and moments of happiness. As you gather around the fireplace, sipping hot cocoa and indulging in winter goodies, you can't help but feel the comforting embrace of this magical time of year.
It's no wonder that winter holds a unique charm for those who embrace its beauty. There's something enchanting about the crisp air, the twinkling lights, and the cozy blankets that instantly make us feel at home.
So to fully immerse ourselves in the season's charm, we've put together a curated list of winter quotes and sayings. From heartwarming, inspiring to cute and funny, these words will perfectly capture the spirit of this magical time.
Winter quotes to celebrate the season
Inspiring winter quotes
Winter may be cold, but it's not short of inspiring moments that can melt away the chill. From the warmth of crackling fireplaces to the joy of snowball fights and hot chocolate, this season has a way of igniting our spirits.
With the end of the year approaching, this is the perfect time for a dose of inspiration. The following thought-provoking winter quotes will serve as a reminder to appreciate the simple joys, nurture your dreams, and find motivation in the magic of winter.
Hello Winter
Winter reminds us the truth that
If we can endure the coldest of times
Nothing can dim the warmth of our spirit.
The air may be cold, but it can't
Extinguish the fire within our souls.
Remember, you are strong and capable.
Winter is the time for comfort, for good food and warmth, for the touch of a friendly hand, and for a talk beside the fire: it is the time for home.
– Edith Sitwell
Winter is the time for stories, tales, and cozy conversations around the fire.
To appreciate the beauty of a snowflake, it is necessary to stand out in the cold.
– Aristotle
Gentle reminders for winter
Give yourself permission to slow down
Schedule breaks from the holiday hustle and bustle
Appreciate your limits and delegate
Stop comparing yourself to Internet strangers
Find peace and calmness in nature
Spend time with yourself and recharge
What good is the warmth of summer without the cold of winter to give it sweetness.
– John Steinbeck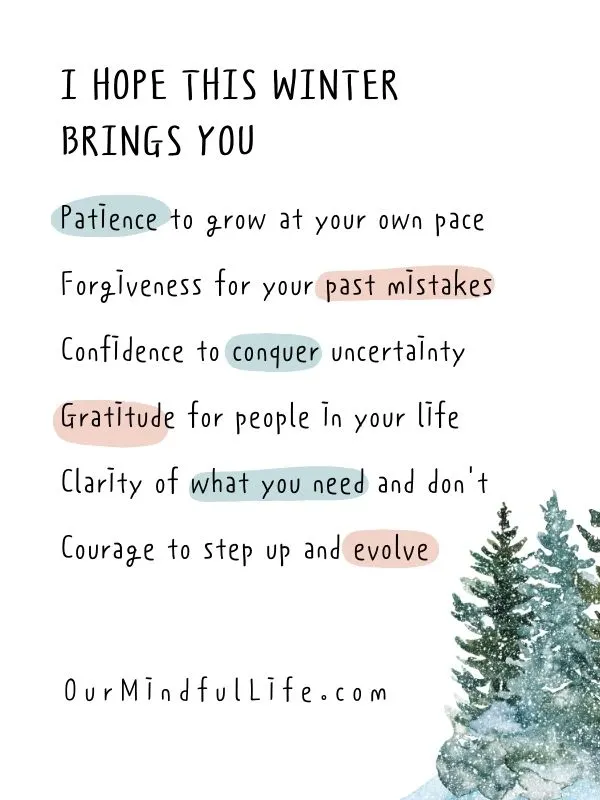 I hope this winter brings you
Patience to grow at your own pace
Forgiveness for your past mistakes
Confidence to conquer uncertainty
Gratitude for people in your life
Clarity of what you need and don't
Courage to step up and evolve
Winter is the season that teaches us to find beauty in the cold and strength in the stillness.
Winter blues first-aid kit
Natural Light
Exercise
A supportive network
Spend time on hobbies
Reading
Getting enough sleep
Energizing music
Hugging your pets
Decorate your home
A walk in nature
What fire could ever equal the sunshine of a winter's day?
– Henry David Thoreau
Spring passes, and one remembers one's innocence.
Summer passes, and one remembers one's exuberance.
Autumn passes, and one remembers one's reverence.
Winter passes, and one remembers one's perseverance.
– Yoko Ono
My old grandmother always used to say summer friends will melt away like summer snow, but winter friends are friends forever.
– George R.R. Martin
If we had no winter, the spring would not be so pleasant: if we did not sometimes taste of adversity, prosperity would not be so welcome.
– Anne Bradstreet
If Winter comes, can Spring be far behind?
– Percy Bysshe Shelley
Cozy winter to-do list
Snuggle up by the fireplace
Movie night with popcorn and fuzzy socks
Take a leisurely winter walk
Build a snowman
Glide across the ice in a skating rink
Have a picnic in the living room
Take a warm bath with nostalgic music
The cold seeped into my bones, but it couldn't chill the fire in my heart.
Relatable cold weather quotes
Cold weather might not be everyone's favorite, but it can definitely ignite sass and a sense of humor. When the temperatures drop, and the chilly winds blow, these relatable cold weather quotes will offer a lighthearted way to make the cold less painful.
Cold weather gives me an excuse to drink more coffee.
The cold turns me into a human burrito, wrapped in blankets and seeking warmth wherever I go.
There's something invigorating about stepping out into the crisp cold air and feeling alive.
I don't need a gym membership in winter. Shivering burns calories, right?
The cold weather makes me appreciate my bed so much more.
Winter is the season when my body goes into hibernation mode, and my motivation levels hit rock bottom.
Cold weather turns even the most mundane tasks into Olympic-level challenges.
Winter is the only time of the year when I consider using my oven as a personal space heater.
Cold weather is the perfect excuse for embracing our inner couch potato.
In winter, my favorite cardio workout is running from the car to the warm indoors.
Do I dress for style or to survive? The struggle is real.
I wish I were a bird so I could fly south and only come back when it's warmer.
The cold weather reminds us that no matter how many layers we wear, Mother Nature always has the upper hand.
Snow quotes that capture winter's charm
The magic of winter lies in the fluffy, white snow. It transforms the world into a whimsical wonderland. Whether it's powdery or sparkling, snow adds a touch of magic to the season.
And so do the following snow quotes. They will remind you of the excitement of building snowmen, the thrill of sledding down snowy hills, and the beauty of the season.
There's just something beautiful about walking in snow that nobody else has walked on. It makes you believe you're special.
– Carol Rifka Brunt
Snowflakes are one of nature's most fragile things, but just look what they can do when they stick together.
– Vesta M. Kelly
A snowflake is a winter butterfly.
Even the strongest blizzards start with a single snowflake.
– Sara Raasch
We are like a snowflake, all different in our own beautiful way.
Snow falling soundlessly in the middle of the night will always fill my heart with sweet clarity.
– Novala Takemoto
You are never too old to play in the snow.
I love snow for the same reason I love Christmas: It brings people together while time stands still.
– Rachel Cohn
Silently, like thoughts that come and go, the snowflakes fall, each one a gem.
– William Hamilton Gibson
The first snow is like the first love – it falls in silence and holds a beauty all its own.
– Rumi
Snowflakes are winter's love letters written in the cold.
The first snow is a magical event. You go to bed in one kind of world and wake up in another quite different, and if this is not enchantment, then where is it to be found?
– J.B. Priestley
A snowball in the face is surely the perfect beginning to a lasting friendship.
– Markus Zusak
Funny winter quotes
Nothing beats the cold better than a good laugh, and that's where these funny winter quotes come in. Whether it's for your Christmas card or a toast at your family gatherings, these witty sayings will bring joy in even the chilliest days.
Winter is the season when my fashion sense goes from "Wow" to "How many layers can I wear without looking like a snowman?"
Winter: the season when my hair becomes a constant battle between static electricity and a beanie.
I have a love-hate relationship with winter. I love the cozy moments indoors but hate the feeling of my toes turning into icicles.
Winter is like a long-term relationship. It starts out all cozy and romantic, then becomes a cold, endless struggle.
Winter: the time of year when getting out of bed feels like a heroic achievement.
If there's one thing I've mastered in winter, it's the art of the penguin walk on icy sidewalks.
Winter is the time when my thermostat becomes my best friend, and my heating bill becomes my worst enemy.
Winter is the time when I truly appreciate the invention of heated seats in cars. It's like a warm hug from behind.
Cold weather is a constant battle between wanting to be warm and not wanting to look like the Michelin Man.
Winter is like a bad boyfriend. It's cold, unpredictable, and it overstays its welcome.
Dear Winter, I'm breaking up with you. I think it's time I see other seasons.
Winter: the time when my car and I have a daily battle to see who can defrost faster.
Winter is the season when my diet consists mostly of hot chocolate and comfort food. Who needs salad?
Short winter quotes
It doesn't require a lot of words to express one's love for winter. Whether you're a winter enthusiast or simply appreciate the beauty of the season, these short winter quotes will be your love statement for the enchanting season.
Winter is not a season; it's a celebration.
– Anamika Mishra
Snowflakes are kisses from heaven.
The world changes when it snows.
In winter, all is calm; all is bright.
Cold hands, warm heart.
No two snowflakes are alike.
– Nikki Giovanni
No winter lasts forever; no spring skips its turn.
– Hal Borland
Baby, it's cold outside!
Winter paints the world in shades of white.
Winter cuddles and cozy snuggles.
Hot cocoa weather is the best weather.
Sparkle like a snowflake.
Ice to meet you, winter!
Winter: the coolest season of them all.
Winter solstice quotes to welcome the season
Winter solstice, or the first day of winter, marks the start of the season and also the shortest day in a year.
While the night may be long, it's not short of inspiration. The following winter solstice quotes will be a reminder to slow down, take breaks, and seek light in the darkness.
Being positive doesn't mean hoping darkness never exists. It's about believing light will come even after the longest nights.
Winter solstice reminders
Even on the longest nights, there's light shining within you.
After every darkness, a brighter dawn awaits.
From today on, days will only get brighter and longer.
You can't work at your best without rest, just like days are incomplete without the night.
Do the best you can and be kind to yourself.
Embrace the darkness, for it unveils the stars within us.
Winter solstice affirmations
I find strength even on the darkest nights.
I let go of what no longer serves me.
The stillness of winter gives me grounding energy.
I am a source of light and warmth in the world.
No amount of darkness can dim my light.
I release any burdens or negativity.
The energy of new beginnings is flowing in my body.
Winter solstice is a magical day when the sun seems to stand still in all its magnificent glory.
As the shortest day arrives on the solstice, may your spirit radiate warmth.
Like a curtain rising on a wintry stage, the first day of winter sets the scene for a symphony of snow, cozy moments, and twinkling lights.
As daylight fades, let your intuition be like stars, shining brightly and guiding you through the dark.
In the dark, we learn to appreciate the tiniest glimmers of light.
Darkness is not the absence of light but the canvas where your inner strength paints its most vibrant colors.
Cute winter captions for your posts
With winter also comes the holiday season and lots of parties and gatherings. And if you love documenting your days and moods on social media, you are in the right place. These cute winter captions for Instagram will add charm and warmth to your winter-themed posts.
Making memories and snowflakes.
Cozy nights and hot cocoa delights.
Catching snowflakes and making wishes.
Sleighing through the winter season.
Let it snow; let it glow.
Cozy moments and chilly noses.
Time to begin the snowball fight.
Winter brings out the cozy cuddler in me.
Frosty mornings and warm hearts.
Finding joy in the little things, like a pretty dancing snowflake.
Winter days are made for snow angels and hot chocolate.
Chilling like a boss 'cause it's winter, baby!
Winter made me do it.
When life gives you snow, make snow angels with an attitude.
Let's all cozy up by the 🔥 , sip ☕️, and call it a day.
Which of these winter quotes is your favorite?
Leave your thoughts in the comment below!