Roses are a symbol of beauty, love, and passion. From small to bold, black to color, these rose tattoos will inspire your next ink.
Rose tattoos have been around for a long time. It is, and will still be, one of the most beloved tattoo motifs for its various meanings and designs.
Most commonly, rose tattoos symbolize love. According to Greek mythology, the rose was the favorite flower of the goddess of love, Aphrodite. Thus, people started associating the flower with love, passion, and affection. And sending a bouquet of red roses is considered a romantic gesture.
Nowadays, the meanings of rose tattoos vary from person to person. Some wear one in dedication to a loved one, to themselves, or for aesthetic reasons. However, rose tattoos can also represent one's determination to bloom and thrive and to live every moment to the fullest.
For these reasons, they are more than just a pretty decoration on the skin. They reflect the wearers' positive attitude and the courage to embrace their true selves.
The meaning of rose tattoos according to color
Like most flower tattoos, roses in different colors may carry different connotations. If you want to express yourself more specifically, here is what rose tattoos in different colors symbolize:
Red rose tattoos: Love, passion, and longing for a loved one
Pink rose tattoos: Gratitude, grace, and admiration
Blue rose tattoos: Mystery, rarity, and desire
Black rose tattoos: Remembrance, ending, farewell
Purple rose tattoos: Spirituality, royalty, and love at first sight
Yellow rose tattoos: Friendship, joy, and encouragement
White rose tattoos: Purity, a new beginning, hope
Because there are so many styles and colors to choose from, rose tattoos can be creative, beautiful, and personal. You can also pair them with other elements to elevate the look and the meaning.
This post has rounded up some of the best rose tattoos for both men and women. From small to bold, simple to intricate, you will find a design that caters to your aesthetics.
Disclaimer: This collection of rose tattoos is for inspiration only. Please do not copy the artwork. If you love these tattoos, follow artists and show them some support.
Beautiful rose tattoos with meaning
Small rose tattoos
A small, simple rose never goes wrong. If you are getting your first tattoo or want something timeless and elegant, these small rose tattoos are for you.
Beautiful intricate rose shoulder tattoo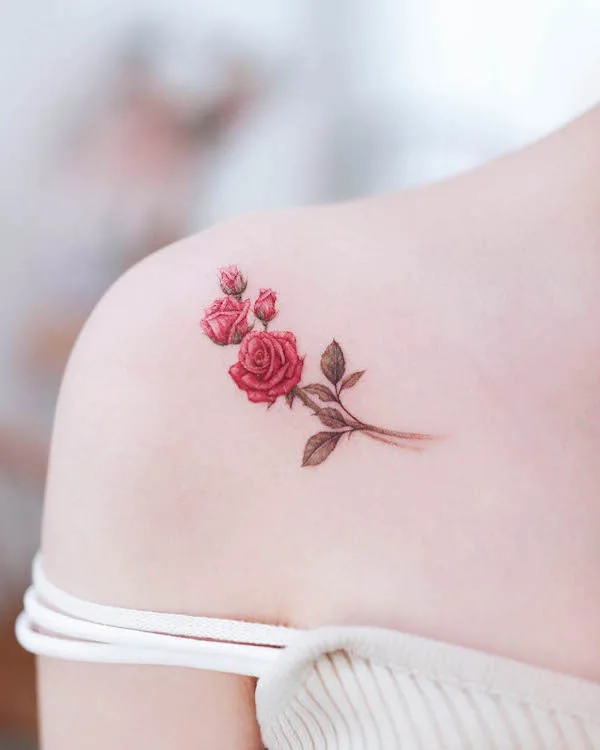 Shoulder tattoos are for you if you want something you can proudly show in the summertime or pair with a gorgeous nighttime look. A small rose bouquet like this is beautiful and feminine but not overwhelming.
Small purple rose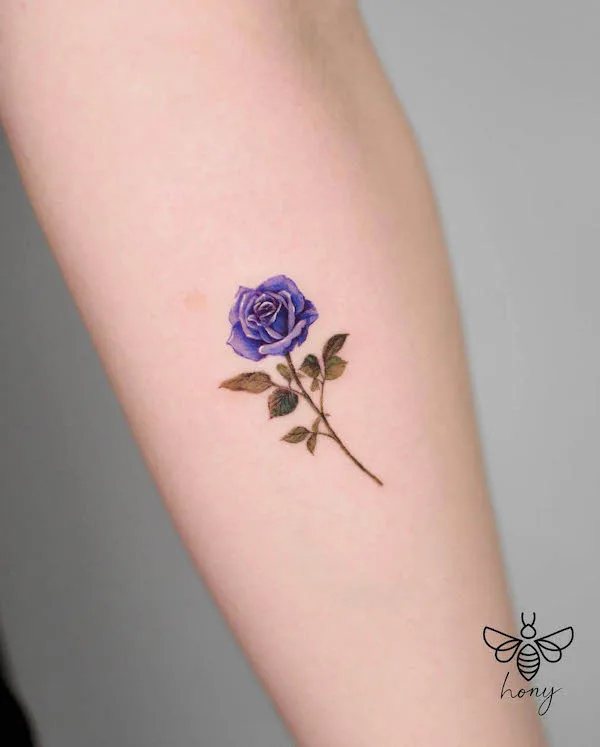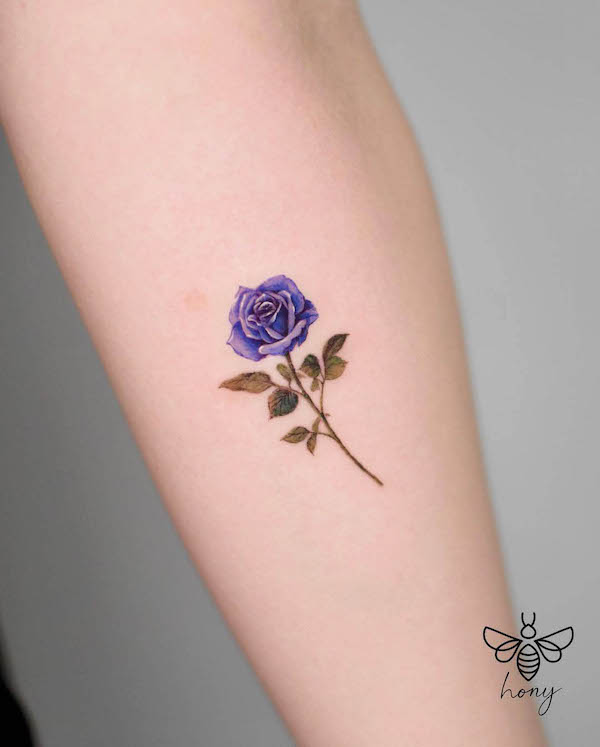 The meaning of rose tattoos varies depending on color. For example, a purple rose might not be as vibrant as the red one. But it symbolizes the spiritual side of the wearer.
Small red rose wrist tattoo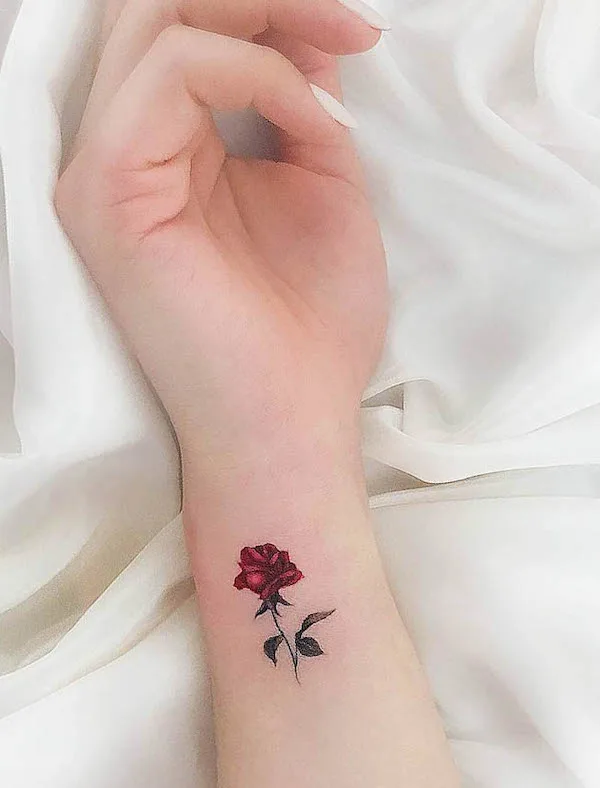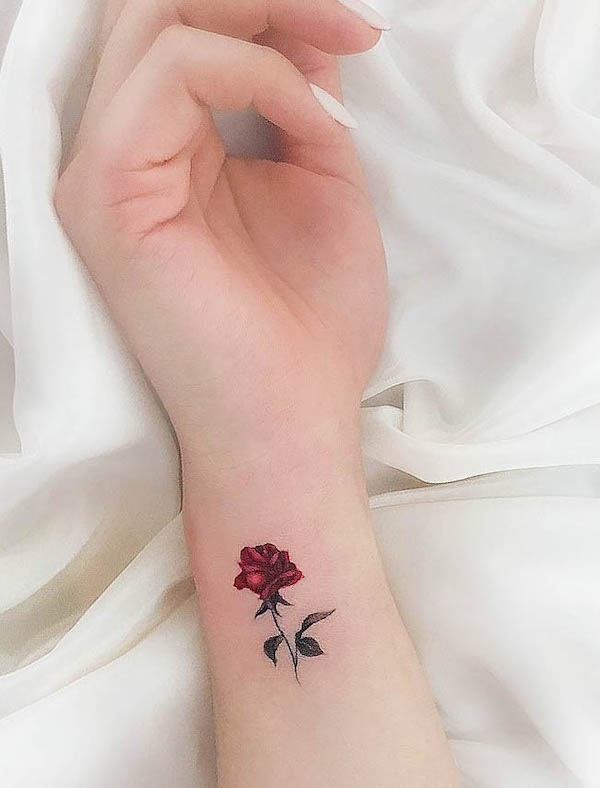 Butterflies and roses arm tattoo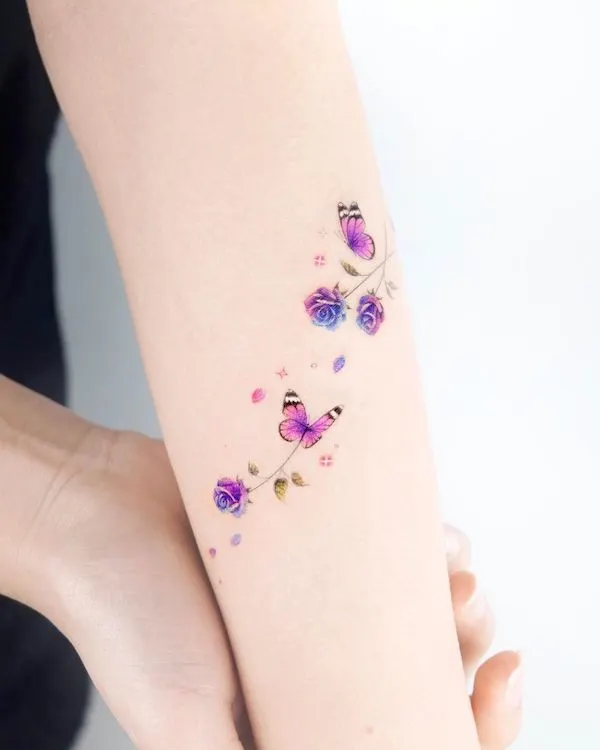 Roses are beautiful on their own. But a rose tattoo can be more interesting with other elements added to it. This dainty wrist tattoo combines roses and butterflies to create a pretty look for women.
Simple tiny rose tattoo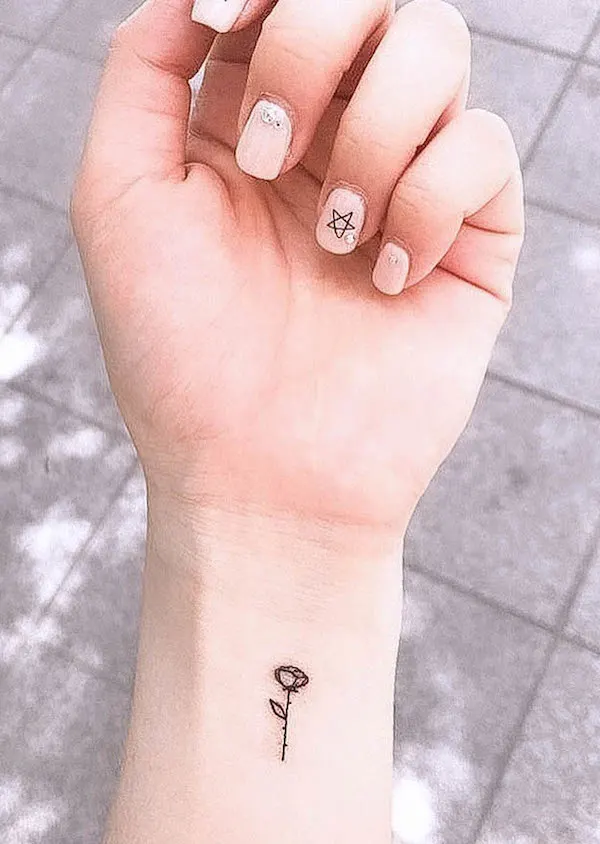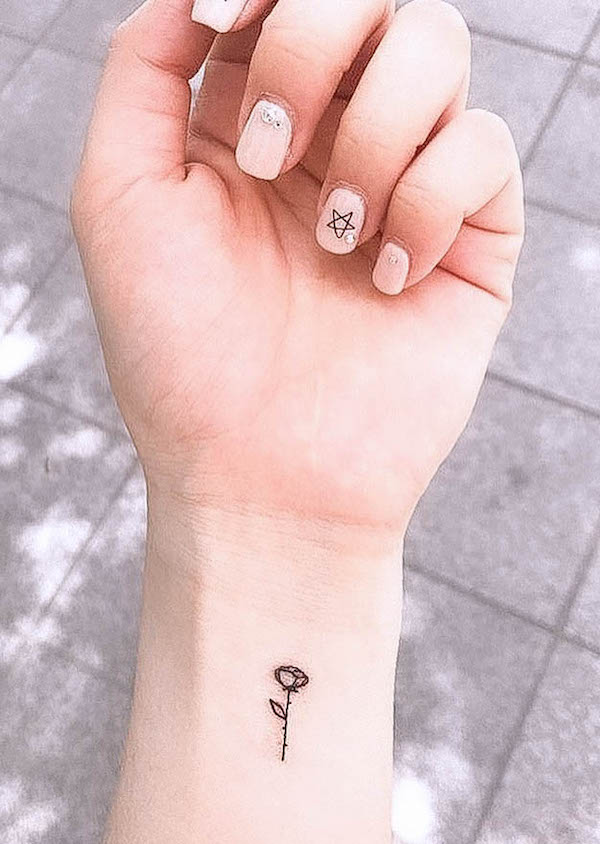 Most wrist tattoos are meant to catch the eye. But if you want something low-key on this area, a tiny rose like this will tone down the volume.
Rose and arrow bicep tattoo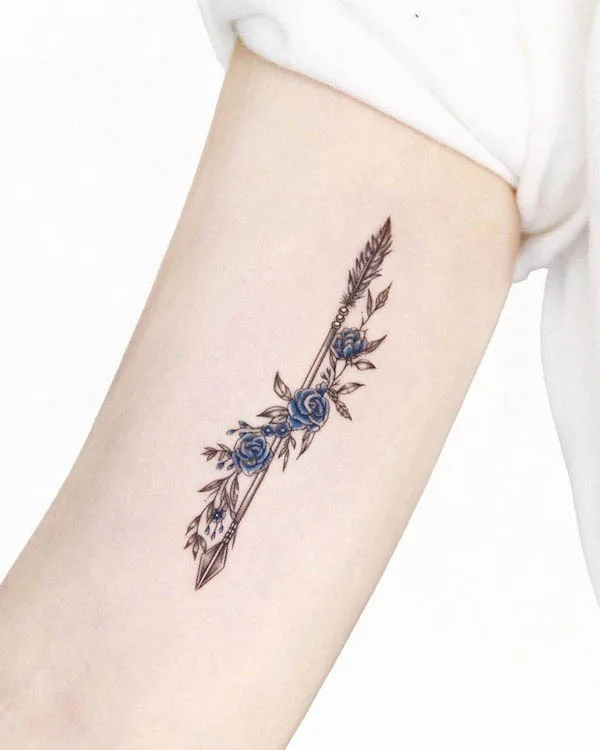 Arrows are often seen in Sagittarius tattoos as the sign's symbol. In addition, they represent strength, courage, and strong dedication in astrology. The blue roses in this bicep tattoo intertwine with the arrow, giving it a feminine highlight.
Stunning blue rose shoulder tattoo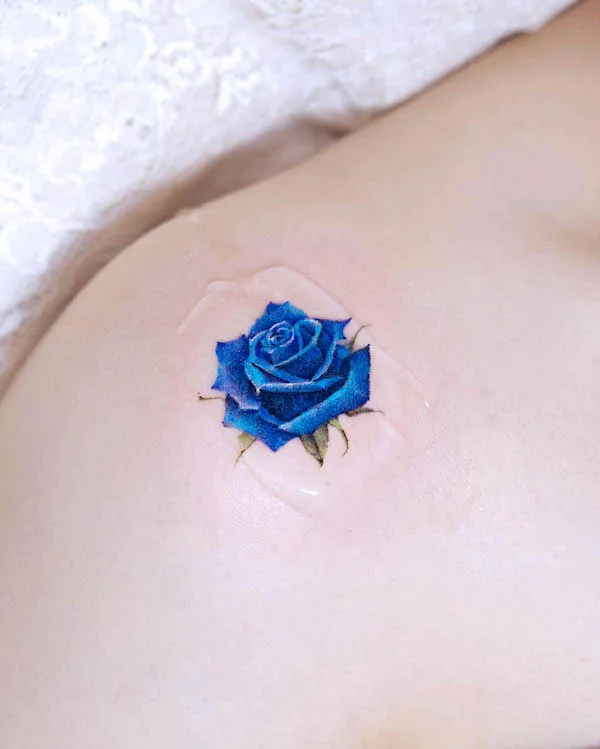 Blue roses don't exist in nature. Because of that, they can be a symbol of rarity and precious qualities. Tattooist Tilda captures the stunning blue in this rose tattoo. And as a result, it reflects the wearer's unique taste.
Black rose wrist tattoo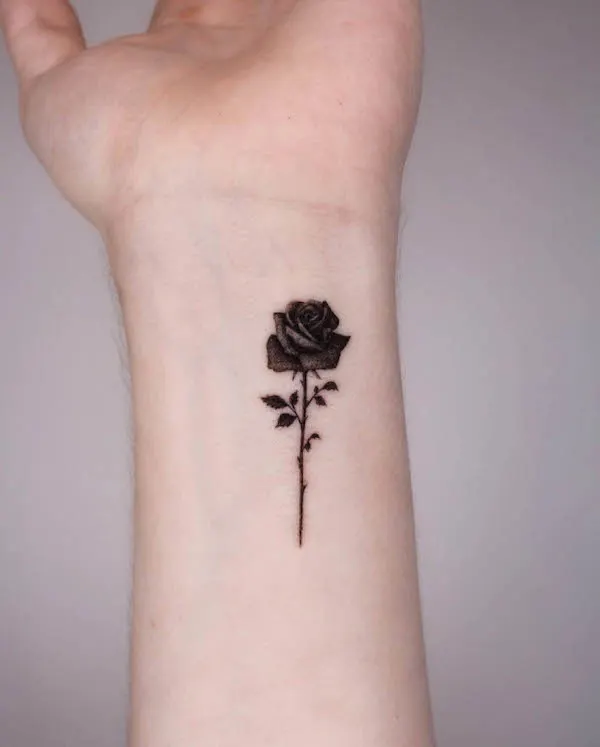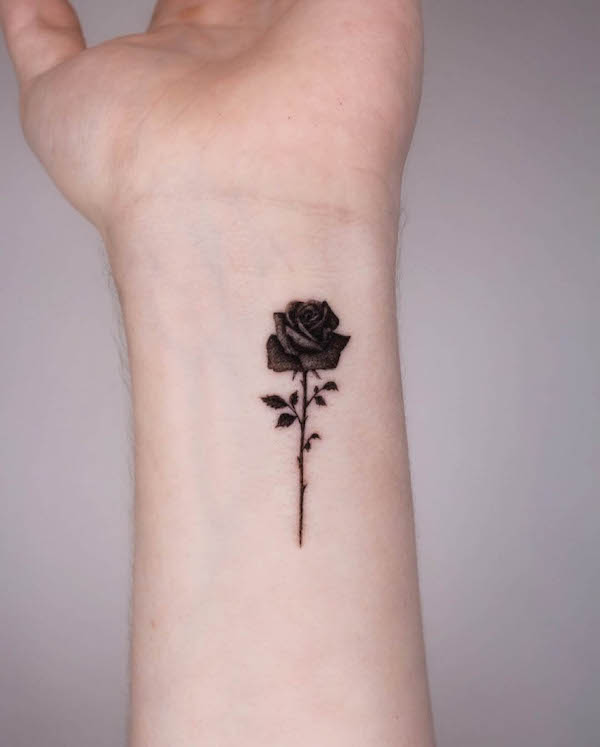 A black rose is probably not the first option for many people looking for a girly tattoo. But it's this bold choice of color that creates a mysterious feeling in this look and makes it special.
Rose infinity symbol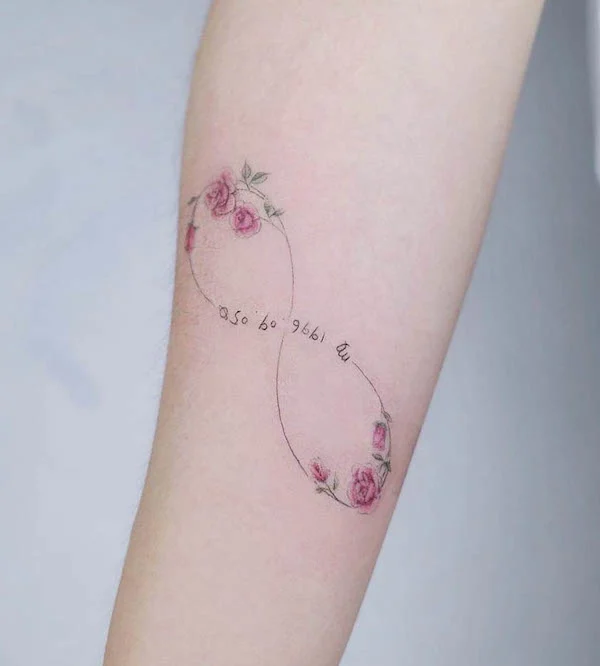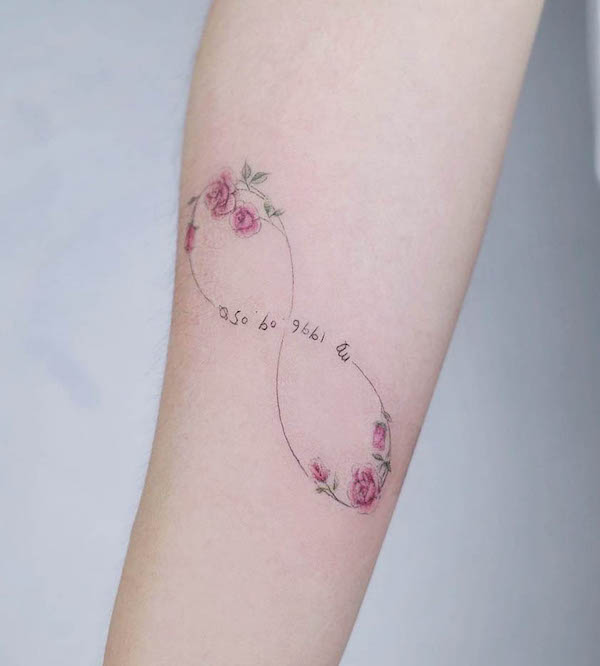 The infinity motif is like a figure 8 lying down. This originally mathematical symbol represents infinity and lifetime promises. So if you want to pay tribute to a relationship or a loved one, such a meaningful tattoo can be a good idea.
Single-line rose for minimalists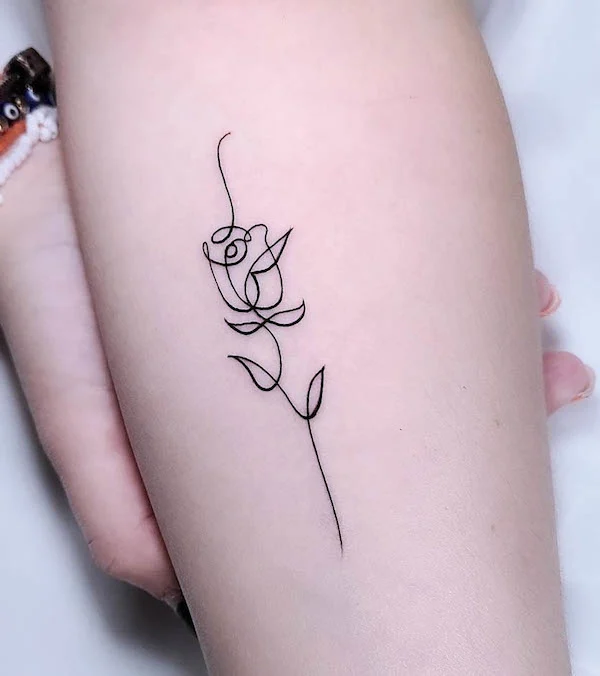 What looks like a simple fine line tattoo actually has lots of thoughts in it. The tattooist draws the entire rose in one line and walks the perfect balance of intricate and sleek.
Tiny behind-the-ear rose tattoo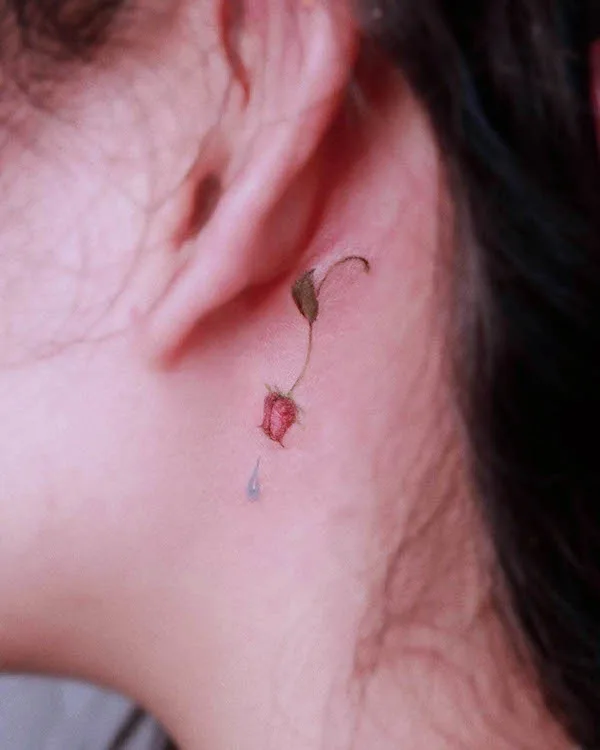 Behind-the-ear tattoos are for those who seek discreet ink. But discreet doesn't mean simple. This one depicts a rose with a teardrop dripping down. It may be a sad tattoo that comes from a broken heart.
Small rose and petals collarbone tattoo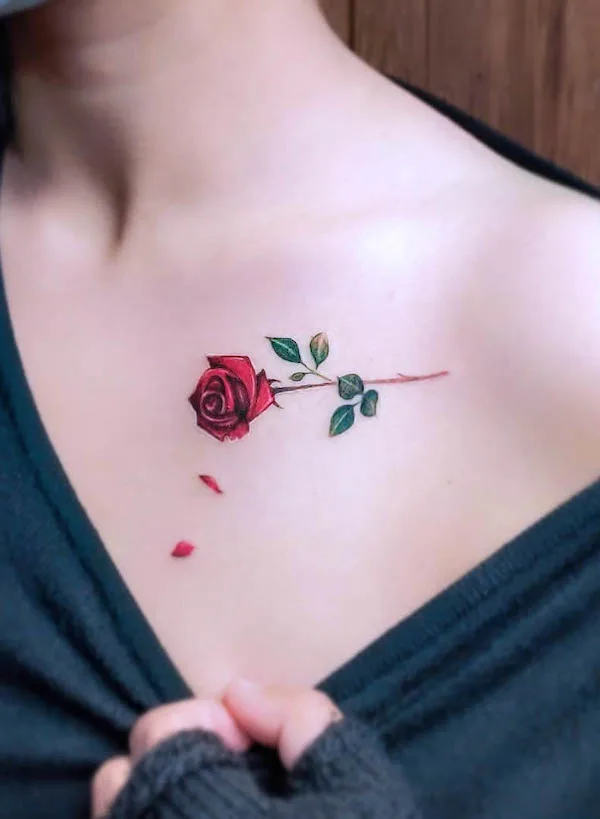 Small rose between the boobs tattoo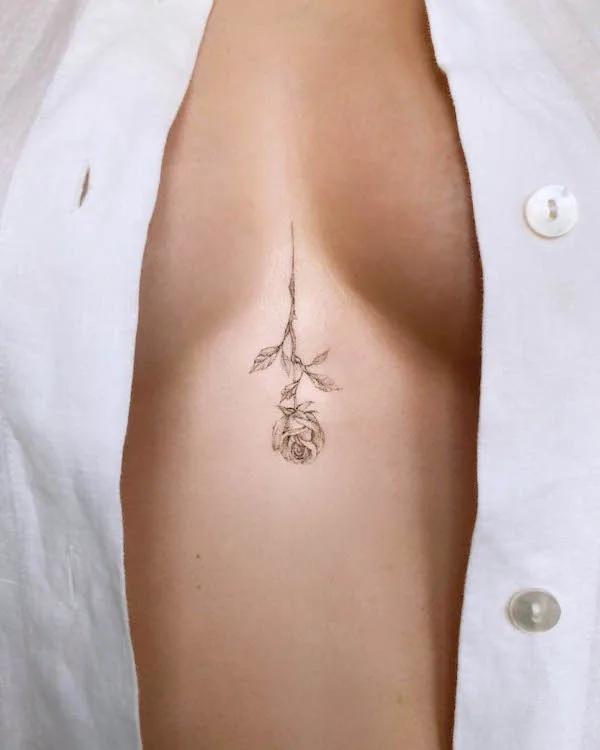 Tattoos between the boobs are challenging because of the limited space. But because rose tattoos look gorgeous big or small, they fit perfectly in this area. The inverted placement also makes it unique.
Tiny realism black and grey rose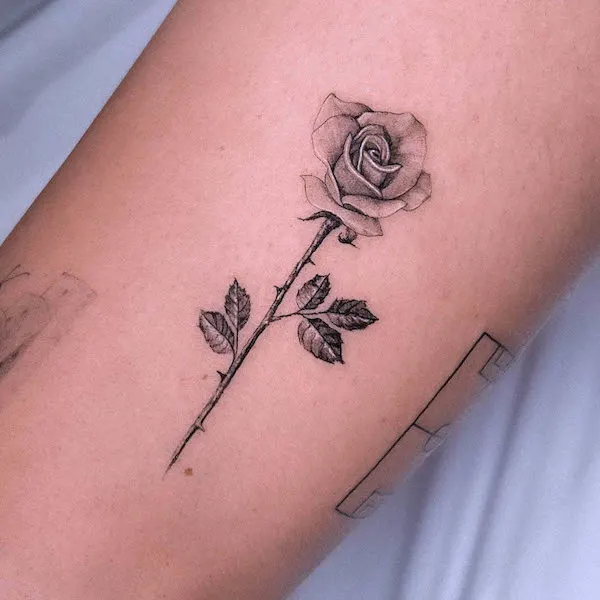 Small rose outline foot tattoo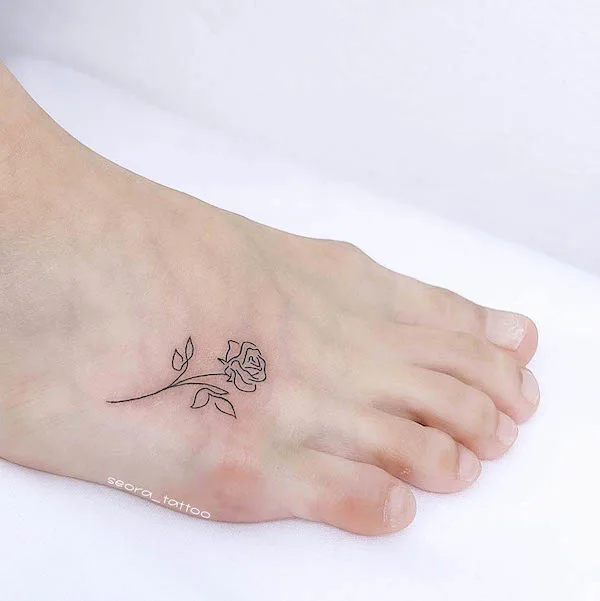 Foot tattoos may be hidden. But they look beautiful with sandals or flip-flops.
Small rose name tattoo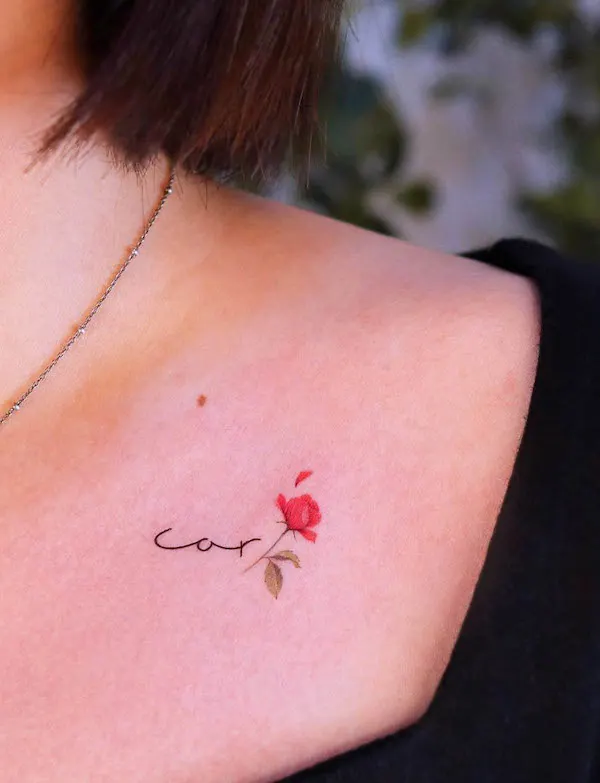 To make a rose tattoo more personal, you can add your name or initials to it, just like this collarbone tattoo.
Small black rose rib tattoo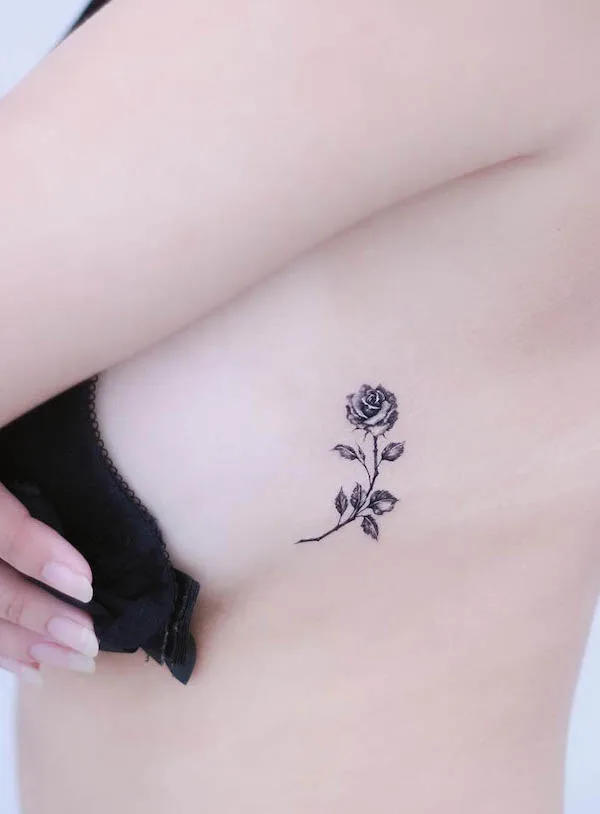 Rib tattoos are seductive and intimate when you place them by the boob. This small, intricate black rose is a good example.
Simple rose neck tattoo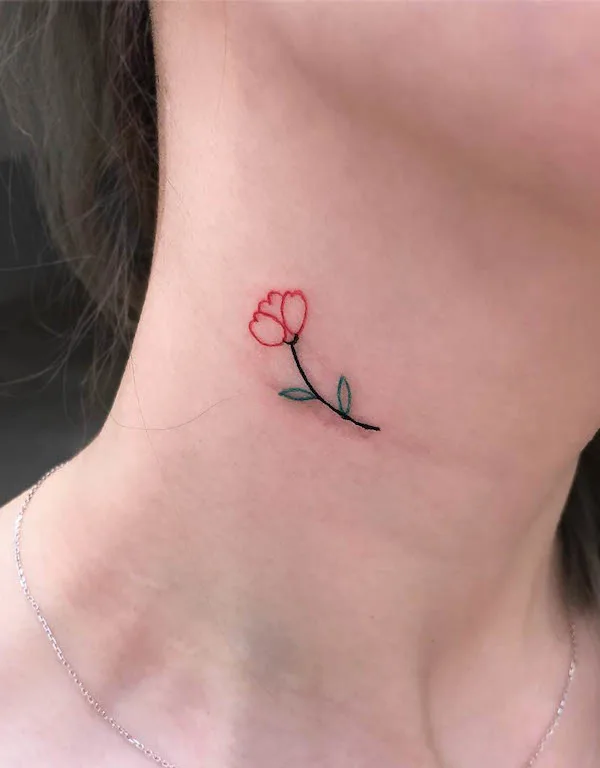 Bold and beautiful rose tattoos with meaning
Realism rose armband tattoo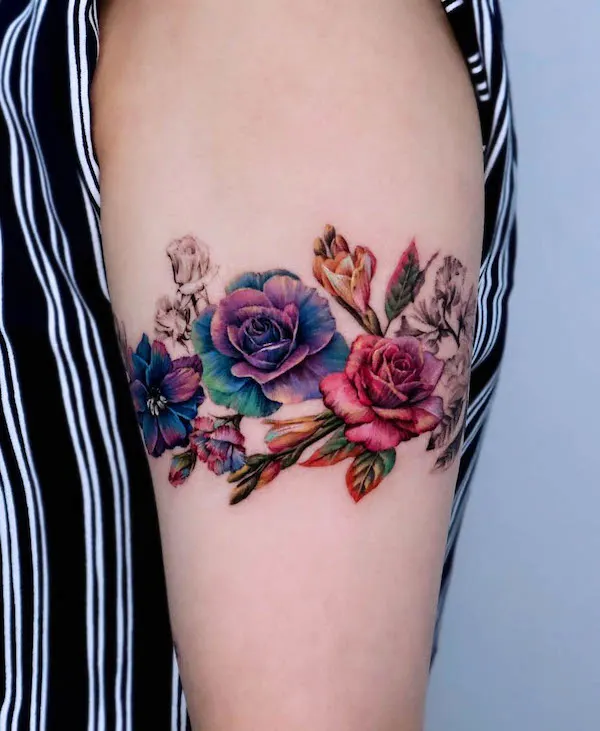 You don't need to limit your rose tattoo to ordinary colors. Tattooist Non-Lee is a pro at playing with unconventional palettes to create something whimsical. And the metallic shine in this armband tattoo highlights the entire design.
Butterflies and rose sleeve tattoo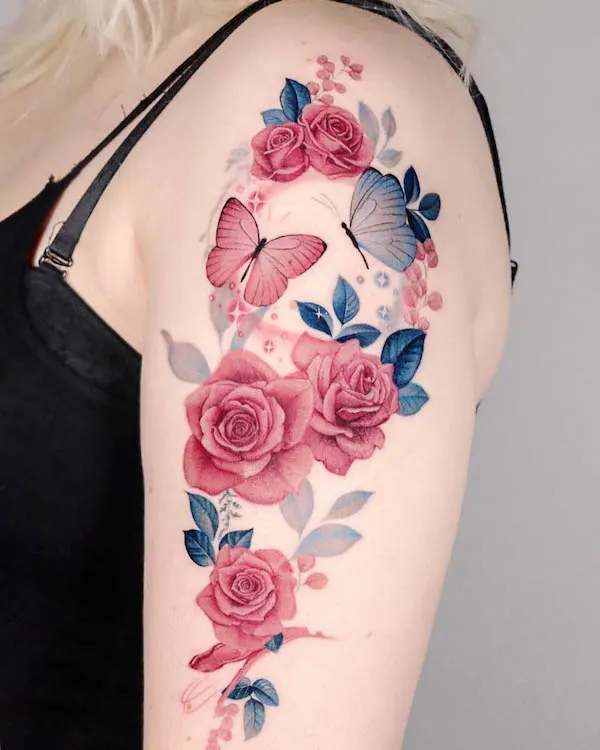 Full-sleeve tattoos may be a bold choice. But that doesn't mean overwhelming. On the contrary, this tattoo balances warm and cold colors as well as big and small elements. And the result is beautiful and elegant.
Matching rose ankle tattoos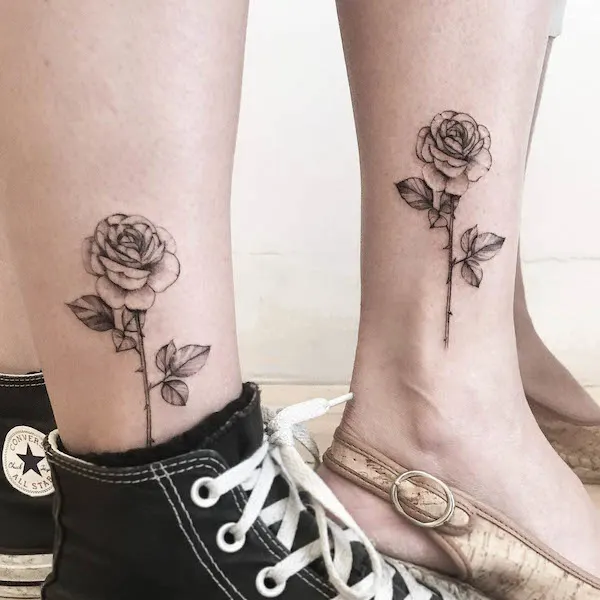 Ankle tattoos have a medium visibility that works for most people. They are not too exposed that you can't hide. And you can still show it with shorts or dresses.
Rose and petals forearm tattoo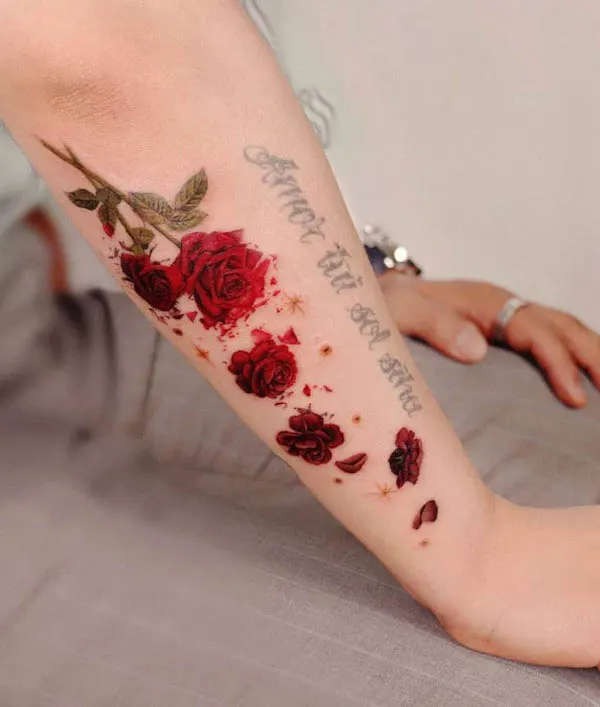 This gorgeous rose forearm tattoo depicts a blooming rose with its petals coming off. The tattooist titles this piece "broken rose" and tells a sad story.
Rose and snake chest tattoo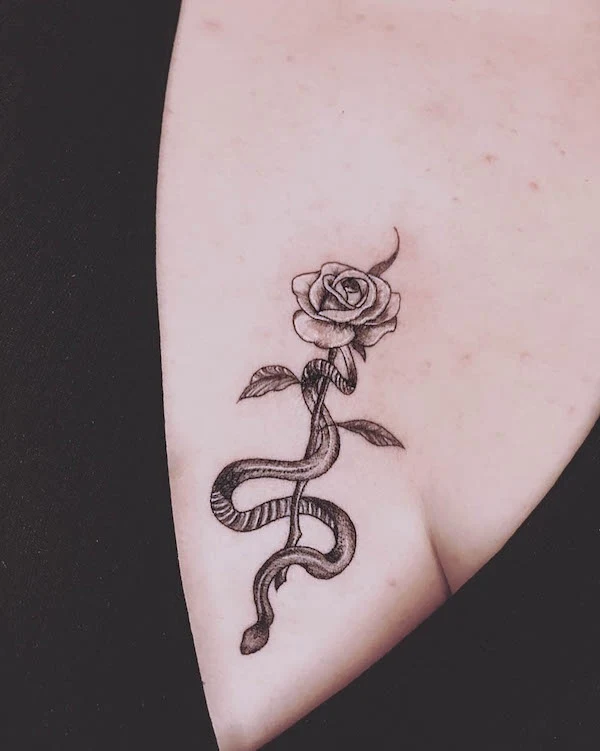 Snake tattoos carry both positive and negative meanings. They may symbolize protection and power, while some see them as a representation of greed and temptation. The rose chest tattoo, on the other hand, represents beauty. And a tattoo like this adds a dangerous attractiveness to the skin.
Cosmos-theme rose and butterfly cover-up tattoo
Few people choose rose tattoos to cover up an old one because of the lack of coverage. However, this tattooist adds background and creates a functional yet stunning cover-up tattoo.
Bold red rose spine tattoo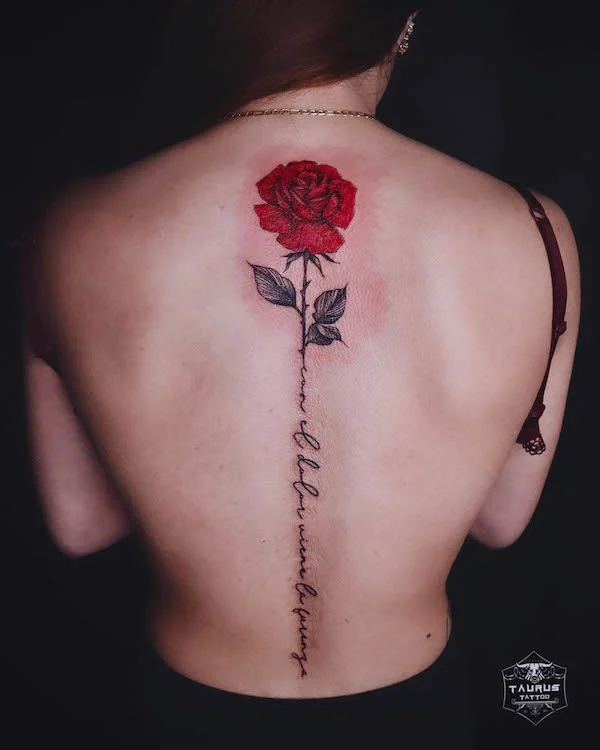 Spine tattoos are a beautiful decoration on the back as it outlines the body's silhouette. This one is no exception. And the script on the stem of the rose turns a feminine design into a meaningful one.
Bold blackwork rose side waist tattoo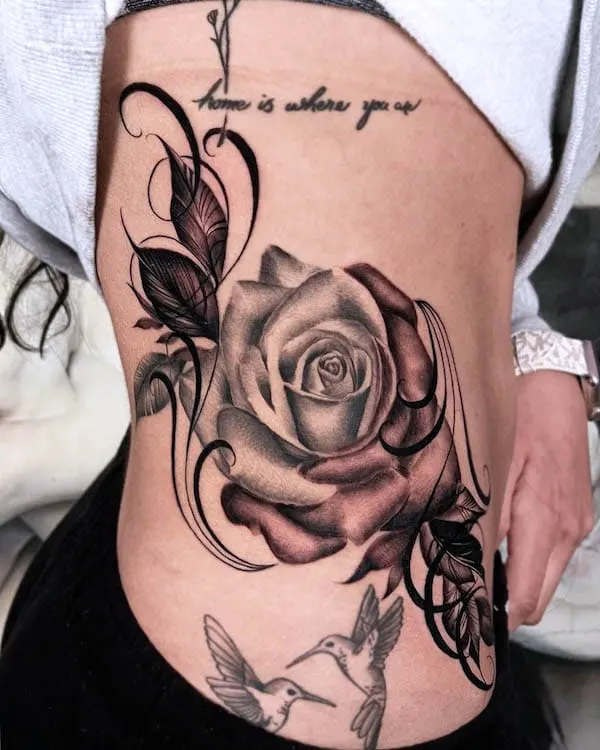 When you have a tattoo whose colors are fading, covering it up is not your sole option. Take this side tattoo as an example. The tattooist adds a layer of swirls and petals to make it glow again.
Rose and sword chest tattoo
The sword is associated with war in the past. But nowadays, it has become a symbol of strength and power.
This daring chest tattoo embodies courage and femininity. And it will be a reminder to always seek strength from within.
Black and grey rose rib tattoo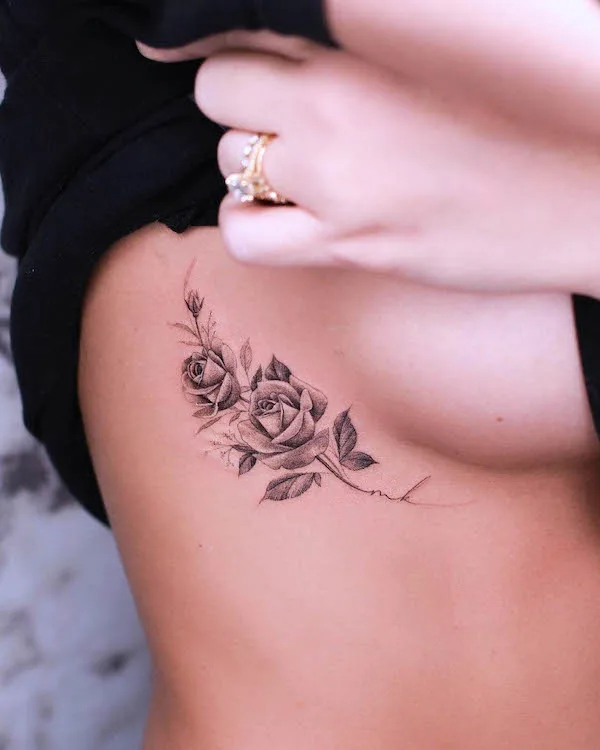 Blue rose and butterfly tattoo
Iridescent rose tattoo
X-ray rose and lettering
X-ray flower tattoos have been growingly popular. They distinguish themselves from the rest because they show the structure of the plant. That makes them a cool and unexpected tattoo idea.
Blue and red rose arm tattoo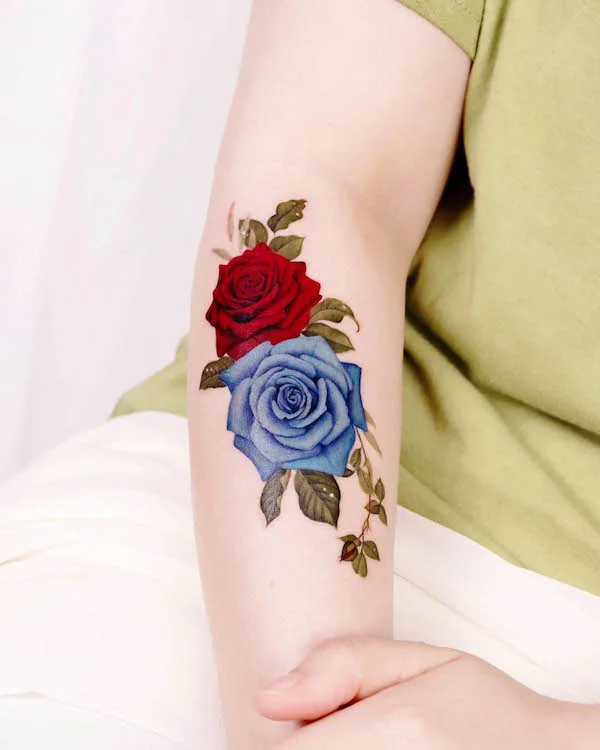 Intricate details and perfect shading are not the only things that shine in this tattoo. By filling the two roses in red and blue, the tattooist creates a balance in color temperature, making it ideal for both men and women.
Circles and rose lower back tattoo
Compass and rose forearm tattoo
Compass tattoos remind one to find one's direction and not get lost when exploring the world. Roses, on the other hand, can symbolize a pure heart. Together, the two elements are the wearer's self-promise to always stay true to her heart.
Micro-realism blue rose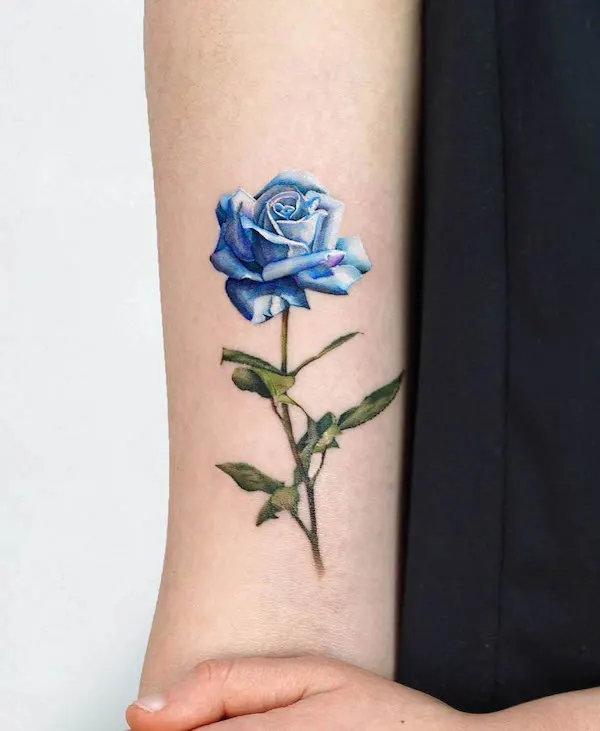 Watercolor rose foot tattoo
Watercolor tattoos are so loved because of their natural flow of colors. However, if you want to make them more stunning, consider mix-matching multiple vibrant colors like in this foot tattoo.
Oriental ink painting rose tattoo
From afar, this forearm tattoo looks like an oriental painting. The bold use of brushstrokes and colors all make it an abstract piece of art.
Rose and dagger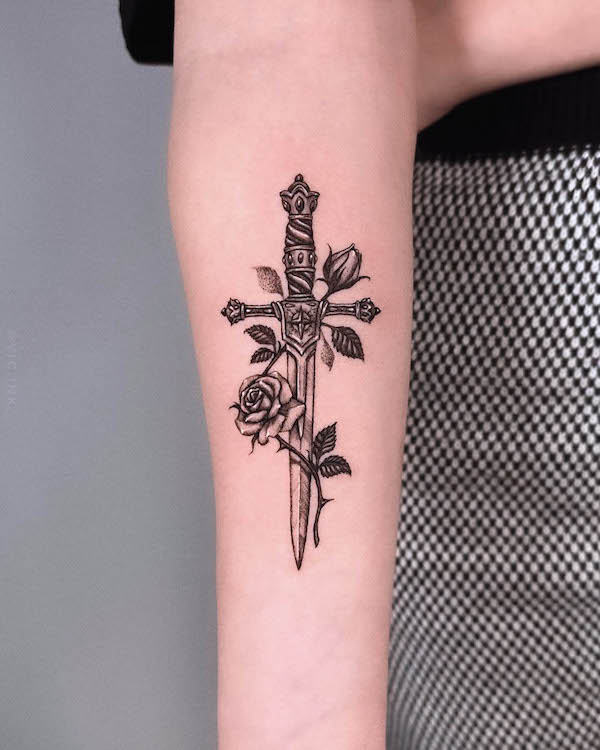 Pink rose under the boobs
Taped rose
Moon and rose tattoo
The moon is something you may see a lot on tattoos for women.
Beautiful purple rose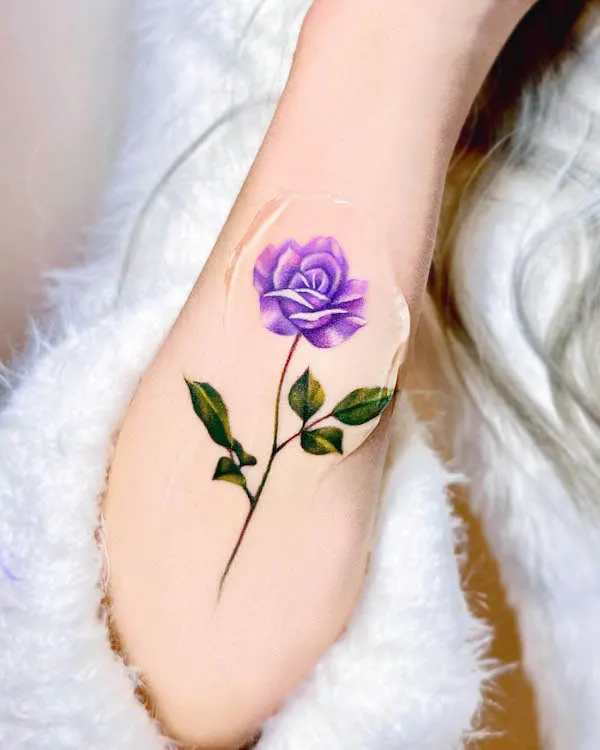 Blue rose between-the-boobs tattoo
Blue is the signature color of tattooist Pokhy. She has an extensive portfolio of stunning blue tattoos. And the way she tattoos the entire rose in blue makes it look unreal and pop on the skin.
Triangle rose tattoo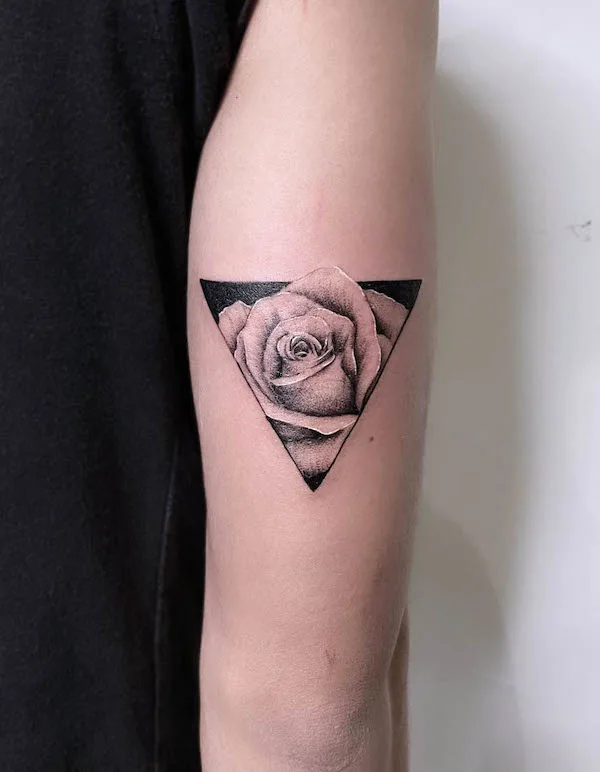 If you are not into dainty, feminine design, adding geometric elements to a rose tattoo is a good idea. The straight, sleek lines make the design more gender-neutral and suitable for most people.
Traditional black rose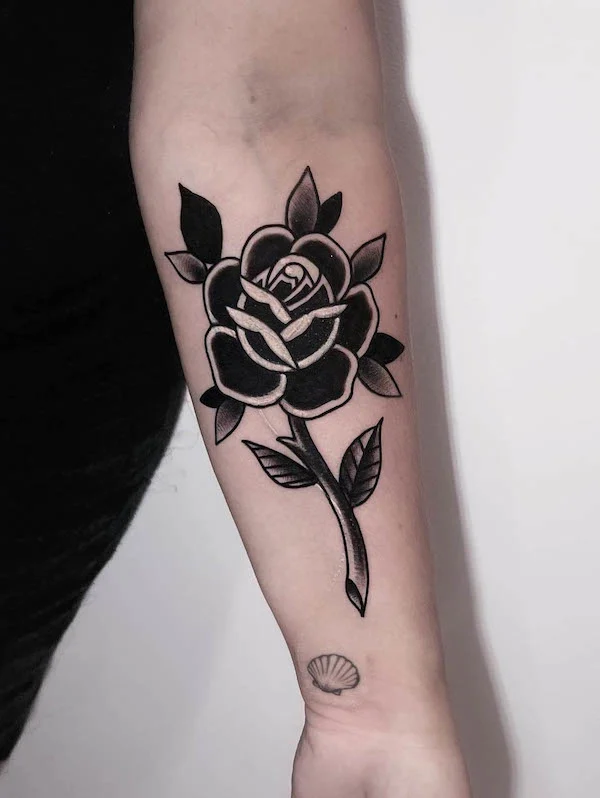 Rose tattoos are not exclusive to women. Such a strong, bold design breaks social norms and makes a statement.
Rose hand tattoos
Roses are among the top options for a hand tattoo. And it's not hard to understand why. For a placement as visible as the hand, you will want something timeless, elegant, and not over the top.
Roses, in this case, check all the boxes. They can be tattooed in color or black and grey, big or small. And it's harder to go wrong with a rose tattoo. They are also a symbol of passion, which makes them ideal for bold souls that wear a hand tattoo.
So if you are one of them, don't miss out on the following rose hand tattoo ideas.
Beautiful red rose wrist and hand tattoo
Matching rose thumb tattoos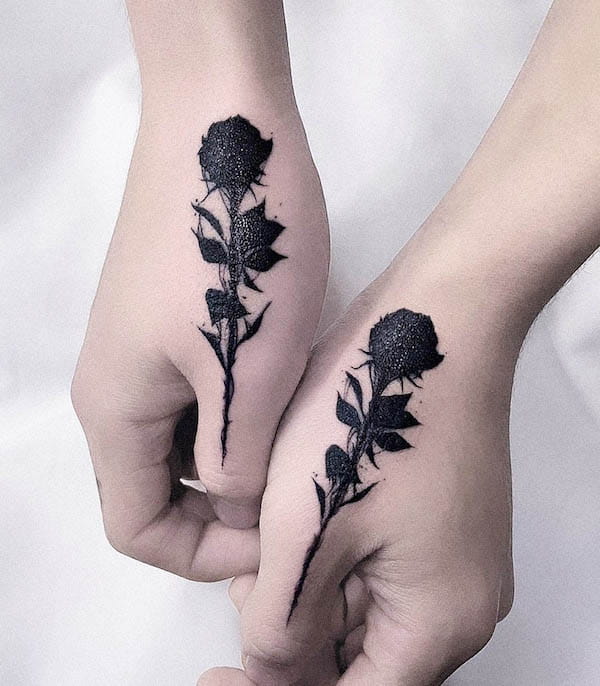 The Creation of Adam rose hand tattoo
Cute small rose hand tattoo
Handpoked flower
Meaningful eye and rose hand tattoo
Black rose hand tattoo
Rose quote hand tattoo
Stunning pink rose hand tattoo
Rose wrist and hand tattoo
Realism black and grey rose
Dainty rose hand tattoo
Small rose finger tattoo
Simple rose fine line hand tattoo
Full hand blue rose tattoo for men
Rose thigh tattoos
The thigh is another placement to let your imagination run wild. You can go as big as you want with a thigh tattoo. Or you can pair roses with elements like butterflies, swords, crosses, or motifs that are meaningful to you.
Below is a list of rose thigh tattoos that will be a stunning reveal and an impeccable decoration on the skin.
Rose and cross thigh tattoo
Horizontal rose thigh tattoo
Realism rose hip and thigh tattoo
Simple rose outer thigh tattoo
Gemstone and rose thigh tattoo
Blue rose thigh tattoo
Detailed rose cover-up thigh tattoo
Rose blackwork thigh tattoo
Creative rose tattoo ideas
So far, we've covered some of the best rose tattoo ideas. But some tattoo artists think outside the box and push the envelope. So if you are aiming for a unique look, the following creative rose tattoos are for you.
Growth of a rose
From a small bud to a full blossom, this forearm tattoo demonstrates the life of a rose. It's a reminder to be patient with our growth and to follow our own pace.
Dali's butterfly flower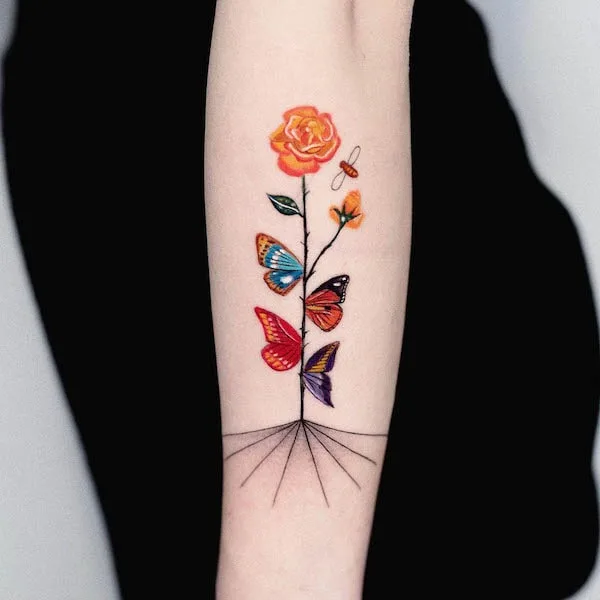 This tattoo of a rose with butterfly petals is inspired by Salvador Dali's painting Flordali II. This Dali tattoo will be a great addition to the skin to show the wearer's artistic side.
Floral pattern butterfly
You may have seen the combination of roses and butterflies. Making the rose a pattern of the butterfly's wings is another approach.
Liquid black rose
When it comes to tattoos, there are no rules to follow. This tattooist creates a unique liquid black rose and butterfly that look like water or smoke. The movements on the skin really make this one stand out.
Rose girl concept tattoo
Letting go
Like dandelion tattoos, petals flying away can be seen as the process of letting go. For this reason, this chest tattoo is not only beautiful. It also symbolizes the wearer's personal healing journey.
Rose in glass dome
Collage rose
This rose tattoo is a good example of combining fun and personality. The tattooist fills each petal with a pattern that is meaningful to the wearer. And the result is unexpectedly cute.
Rose self-love quote tattoo
The wearer takes a more straightforward and strong approach to a self-love tattoo. The knife is a display of her unapologetic attitude.
Glittering black rose
Rose on fire
Intricate rose ornamental tattoo
Transformation
Bleeding rose
Which of these rose tattoos is your favorite?
Leave your thoughts in the comment down below!