Leo have a unique taste for tattoos. From big to small, simple to intricate, these Leo tattoos are tailor-made for the sign.
If your birthday falls between July 23 – August 22, you are a Leo sun sign. And it's your time to shine like a diamond.
As a Leo, you are born as a leader with intense charisma. You are talkative, outgoing and charming. And people around you either love you to death or are terrified by your dominating personality.
Let's take a look at Leo celebrities and you'll know Leos are one-of-a-kind. Jennifer Lopez, Barack Obama, Sandra Bullock, Leonardo DiCaprio…They are not just famous, they are leaders.
If you are a Leo, you have all the reasons to be proud. And what's better than a statement zodiac tattoo? To get you started, here are some gorgeous Leo tattoos.
Disclaimer: This tattoo collection is for inspiration only. Please do not copy the artwork. If you love these tattoos, follow artists and show them some support.
Table of content
Leo tattoo elements
Beautiful Leo symbol and Leo constellation tattoos
Unique Leo tattoos for women
Bold statement Leo tattoos for men
Beautiful Leo tattoos with meaning
Leo tattoo elements
If you are thinking about getting a Leo tattoo, here are some design elements that represent the zodiac sign.
The lion is the king of the jungle, the ruler of all beasts. With the lion being its symbol, Leos are courageous, determined, and they are born leaders.
Leo constellation
Leo glyph
The Sun
Leo is ruled by the Sun, the ultimate fiery planet, and the source of life. In astrology, the sun sign determines the fundamentals of one's personality. It's the center of our Universe. Reflecting on Leos, they are proud and can be self-centered.
Leo is a fire sign. That's why it's a comment Leo tattoo element. Fire signs are known to be determined, assertive, and energetic.
Sunflower is the flower of the Leo sign. It seeks light in the dark and will always choose to see the bright side.
Beautiful Leo symbol and Leo constellation tattoos
A small Leo glyph behind the ear
Want to low-key show off your Leo pride? Behind-the-ear tattoos are perfect for you. You can hide or show it with different hairdos. And such a small Leo glyph will fit into this placement.
Cover-up Leo constellation tattoo
This beautiful Leo tattoo was originally a cat tattoo. The starry night fully covers the old design and makes the stars pop out even more.
Read also: 30 Brilliant cover-up tattoos with before and after
A Leo player tattoo
What looks like a small wrist tattoo is actually a personal one. The number "1983" and "08:14" reveal the year and date of birth. And the small Leo glyph tells the wearer's astrology sign. The small details make a simple music player tattoo unique and meaningful.
A glowing Leo glyph wrist tattoo
The sun is Leo's ruling planet. Therefore, the radiating sun in the background not just creates a visual impact. It is also associated with the Leo sign itself.
A lion tattoo with Leo zodiac constellation
Pairing two elements of the same sign together is a way to create something unique. Take this Leo forearm tattoo as an example. The details of the lion and the simple constellation together create a timeless design.
A stunning half-lion with the Leo symbol
Big, bold thigh tattoos are not for everyone. But Leo is known to be advantageous and expressive. If there's anyone who can rock a look like this, it would be Leo.
Snake ankle tattoo with Leo constellation
From afar, this may look like an intricate snake tattoo. Snake tattoos are often symbols of protection and fertility. And the Leo constellation in the background makes it perfect for Leo women.
A sunflower Leo symbol
Sunflower is the flower of Leo. They are always facing the sun, just like Leo's positive approach to life. If you are looking for less obvious Leo tattoos, the sunflower can be a good fit.
A Leo glyph tattoo
The curves of the Leo symbol make it a perfect orbit to add elements you like. And this small planet shoulder blade tattoo is a great example.
A small Leo symbol on the hand
Many people avoid hand tattoos because of the visibility. But if you are proud to be a Leo, why not give it a try?
A cat tattoo with Leo constellation
Do you have a favorite animal or a spirit animal? This cat tattoo shows how you can combine it with your zodiac sign.
A sun tattoo on the wrist
The ruling planet of Leo is the Sun, an endless source of energy. And Leos are no different. They seem to have endless battery life. If this sounds like you, a sun tattoo will be a unique approach to getting a Leo tattoo.
Black and grey Lion tattoo for Leo girls
A Leo astrology tattoo for travelers or mountaineers
Leos are explorers. They have the adventurer spirit written in their genes. That's why many Leos love traveling to different places in the world. If you are one of them, this traveling tattoo with mountains and Leo stars may speak your mind.
A floral zodiac tattoo on the ankle
Many people misunderstand Leo as assertive with a larger-than-life personality. It's not always the case. As bold as Leos can be, they have a taste for subtle elegance. And the designs that capture their attention are not always overwhelming. They can be as low-key gorgeous as this rose tattoo.
A Leo sign tattoo with crown
Leos are a lot like lions, the king of the jungle. They love to dominate and stay on the top. And what's more flattering than a crown on a Leo symbol?
Matching arrow tattoo for Leo couples
What are the odds that you and your Significant Other share the same astrology sign? If you are the lucky few, matching couple tattoos like this one will honor your bond.
A tiny Leo symbol ear tattoo
This elegant Leo tattoo is so tiny that even your parents won't notice.
A birth chart tattoo for Leo
If you are into astrology, you may know that you are more than just one zodiac sign, which is usually referred to as your Sun Sign. You also have a Moon Sign, Rising Sign, and many astrological elements in your birth chart.
The tattooist drew inspiration from the wearer's sign and turned it into a complicated geometric tattoo. And the result is gorgeous.
A Leo-dala tattoo
Many people find mandala tattoos attractive for their pattern and shape. If you are one of them, this tattoo shows how you can incorporate your zodiac sign inside a mandala.
A sleek Leo symbol on the rib
Rib tattoos are discreet. Most of the time, they are not visible. So why not go big like this tattoo? The bold black lines make it a proud statement as a Leo.
A minimalist Leo symbol arrow tattoo
One good thing about symbol tattoos is that you can add multiple elements that resonate with you. As long as you align them in a straight line, the tattoo will still look sleek.
A bold moon phase lion tattoo with Leo constellation
Not everyone can rock a full sleeve tattoo, especially something as intricate and rich in meaning as this one. If you love sleeve tattoos but are on the fence, start with one element and add as you go.
An arrow tattoo with Leo constellation
Unique Leo tattoos for women
A minimalist cat+lion tattoo to show or hide
Lions are big cats. This abstract cat tattoo on the neck combines the two and creates something unique.
The eye of Lion
Compared to Leo tattoos for men, those for women are often more sophisticated and illustrated with fine line. This pupil tattoo is a good example of softening a fierce animal into an elegant design.
The Leo girl tattoo
Super cute small lion on the thigh
Not all lion tattoos are masculine and terrifying. This small thigh tattoo captures the lion jumping in motion. Yet the clean lines and the clouds make the tattoo super cute and girly.
Stunning Leo goddess
What a stunning portrait tattoo capturing a Leo girl's calm side. And the tattooist left the edges of shadow on purpose to make this tattoo more artistic.
Feminine and intricate Leo tattoo
A creative Leo tarot tattoo
Playing with fire
Leo is a fire sign. And Leo women are far from being tamable. This arm tattoo captures the reckless side of Leo. Such a badass tattoo will be a warning sign to never try to manipulate a Leo.
The Leo goddess sleeve tattoo
The stunning yellow tone and the shimmering earrings in the shape of the Leo glyph go so well together. This Leo tattoo will make everyone jealous, not just your Leo pals.
A lion back tattoo with a story
A bold full sleeve Lion tattoo
Full sleeve tattoos with lion imagery are not common for women. But you can choose a design that captures the soft side of a lion, like this one, to fit your aesthetics better.
A Leo-Aquarius rib tattoo
A cute Lion and sunflower tattoo
Not all Leo tattoos are badass – they can be adorable. This creative colored tattoo combines Lion and Leo's flower symbol – sunflower, making it a perfect sleeve tattoo for girls.
Cute lion portrait
You don't always have to draw a full lion in a Leo tattoo. Keeping only the facial features makes a tattoo lighter and more unique.
A Leo-Aries tattoo on the rib
A perfect elegant zodiac tattoo for women
Moon tattoos symbolize femininity. Adding a moon to a Leo tattoo is a good way to soften a tattoo and make it more girly.
A full sleeve lion tattoo
A violet Lion tattoo on the back
Who says a Leo can't be in different colors? This back tattoo is a great example of customizing a design with your favorite color.
A watercolor lion dreamcatcher tattoo on the back
This back tattoo integrates the lion with a dreamcatcher, making it a stunning ink to impress.
A "rock-solid" lion tattoo on the back
A cute baby lion tattoo for Leo moms
A girly geometric lion tattoo
If you want something less specific and more abstract, consider geometric tattoos. They are also perfect for minimalists.
A realistic Leo arm tattoo
Stunning full back Leo tattoo
Bold statement Leo tattoos for men
Looking for a bold and gorgeous tattoo to wow everyone? Look no further.
The lion in transformation
Simple lion bicep tattoo
Egyptian lion
The lion photographer
What a creative Leo tattoo. This tat shows how you can incorporate your passion or profession with you zodiac sign.
Lion king father and son tattoo
The Lion King is a favorite cartoon for many people. If you are moved by the love between Simba and Mufasa, this cartoon character tattoo can be a great fit for you and your father.
A geometric lion foot tattoo
A reverse lion tattoo for Leo father and son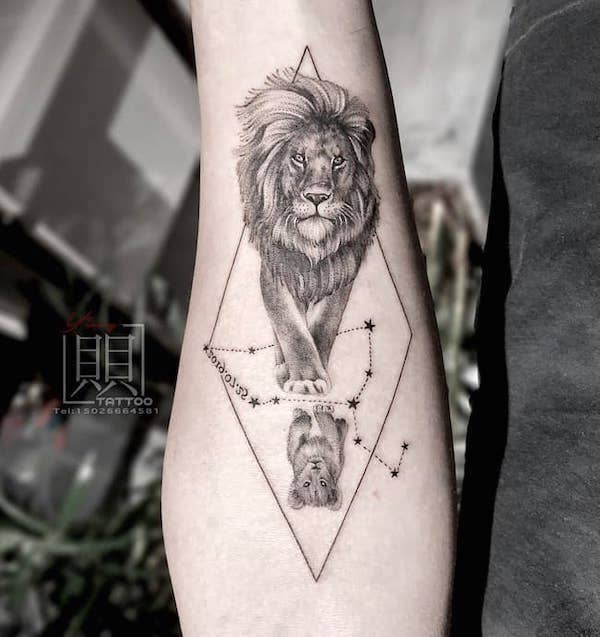 The nirvana
Butterfly or moth tattoos are often used to represent life transformations. But if you opt for something more masculine, such a tattoo will also celebrate your courage to embrace changes.
A geometric lion tattoo
King of the world arm tattoo
Watercolor lion tattoo
A geometric tattoo on the arm
The Lion in scattered pieces
A shiny Leo symbol
An abstract lotus lion tattoo
Which on of these Leo tattoos do you like the most?
Tell us in the comment the tattoo that resonates with you the most!